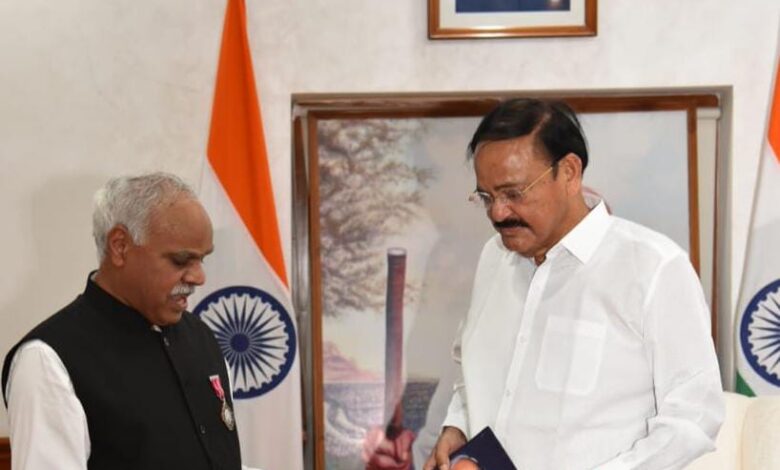 'Padma Shri' recipient Dr BKS Sanjay presents his maiden collection of poetry to Vice President M Venkaiah Naidu
Dehradun, June 19
'Padma Shri' award recipient, eminent orthopaedic surgeon Dr BKS Sanjay presented the first copy of his maiden poetry book titled "Uphar Sandesh Ka" in Hindi published by Bharatiya Jnanpith to Vice-President of India M. Venkaiah Naidu on Wednesday. The poems are written in simple words to convey deep messages to the society on the different aspects of life.
About his book, Dr Sanjay said that every poem has a story behind it and a unique message to be conveyed to the society. His poems such as 'Failaw', 'Bhookh', 'Pustakain', 'Maun Bhi Ek Bhasha Hai', 'Nata', 'Poornata' and 'Samwad' not only show the thinking of the poet but also show his sensitivity towards the society. There is a strong desire in the poet's mind to bring changes in society. The poet believes that in order to bring change in the society, change in thoughts, mutual cooperation and conversation are must.
During the programme, Dr Sanjay recited the poem "Sapne Apke Aur Hamare" from his book which was well appreciated by the Vice-President who also congratulated Dr Sanjay for his first poetry book while conveying his best wishes for his bright future and good health. Senior litterateur and 'Padma Shri' recipient Shyam Singh Shashi, managing trustee of Bharatiya Jnanpith Akhilesh Jain, academician and litterateur Narendra Singh Nihar and orthopaedic and spine surgeon Dr Gaurav Sanjay were also present during this programme.
Dr BKS Sanjay is a world renowned orthopaedic and spine surgeon. His name has been recorded in Guinness Book of World Record, Limca book of records, India and International Book of Records. He is a multi-faceted personality who is renowned for his professional work as a surgeon and his  social works. Dr Sanjay has been awarded with India's fourth highest civilian honour 'Padma Shri' by the Government of India in 2021for his distinguished services.
Dr Sanjay is not only a renowned surgeon and social worker but also an outstanding writer, orator and a columnist who has command on both Hindi and English languages. It is unique for a surgeon to write poetry. Dr Sanjay not only reconstructs bones and joints but also creates high quality poetry as seen in his maiden collection. His poems deal with motley subjects including love, affection, service and compassion for society.