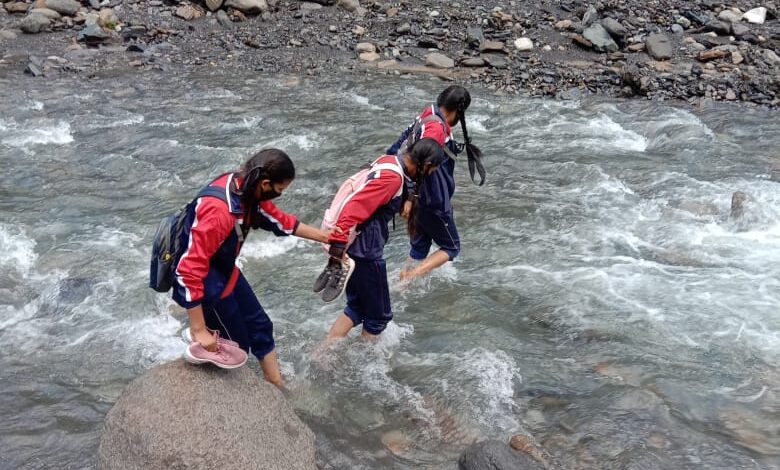 Absence of bridges force students to stay home during monsoon season
B.D.Kasniyal
Pithoragarh,July 24
The school going children, studying from primary to higher secondary level schools in the remote and disaster prone parts of Pithoragarh district are taking risk of their lives in reaching their respective schools daily while crossing flooded rivers, fast flowing rivulets and torrents during the onging monsoon season in the absence of bridges over these water bodies. Most of them are skipping their school due to their inability in negotiating these rivers and rivulets on rainy days when the flow of water is fast and dangerous.
"Over 50 students of Ghururi, Mankot Bhyula and Ghanghor village of Muwani- Dawani area of Bangapani sub- division of the district are not going regularly to school as two wooden bridges at Bherigar and Bhyula nullah on Gharuri-Mankot road have been swept away by rains weeks ago," said Munni Devi, Gram pradhan of the village.
According to Munni Devi, she has written to SDM Bangapani to step in to construct these wooden bridges so that common people including school children could move safely during monsoon season.
Not only Ghururi- Mankot but students from Cheti, Chimla and Pawwadhar villages of Munsiyari sub-division of the district are also not in position to attend  their intermediate college at Namjala after the wooden bridge at Ghatgar rivulet has been swept away by rains.
" After an 8th standard girl student was swept away by this flooding rivulet in monsoon month in the year 2018, the guardians are not taking the risk of sending their children to schools during rains," said Puran Pandey, a social worker in Munsiyari.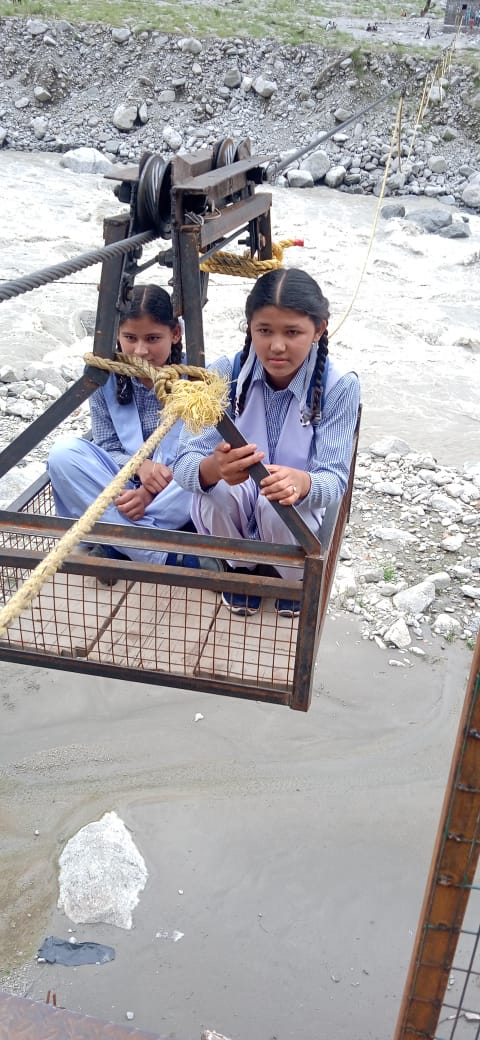 "After crossing these flooded rivulets on foot, the students then had to ride a makeshift trolly installed by Public Works Department (PWD) to cross the Gori river. Most of the time the trolly is without any attendant," alleged Pandey.
In the disaster prone Dharchula sub-dovision, over 60 students, of 5 villages of Lake Dhar, Bajani, Basidhar, Seepalthor and Malladhura villages have not attended their school at Government Inter College (GIC) Khunti since July 6 this year. They are unable to cross the Khumtigar rivulet enroute their school due to washing away of the wodden bridge. It has become risky to cross the flooding rivulet.
" We have issued a strong advice to guardians not to send their wards to school in monsoon months  until the bridge gets constructed, " said Gopal Singh Dhami, Gram pradhan of Khumti village.
According to gram pradhan, if the wooden bridge is not installed on these spots, soon a crisis of ration and lack of medical facilities during emergencies could arise in the village." The PWD engineers argue that due to non availability of  42 feet long wodden logs in local forests, the bridges could not be rebuild ," said Dhami.
The Gram pradhan quoted a PWD engineer saying that his department has sent an estimate of Rs. 14.5 lakh  for reconstructing a wooden bridge at the said place but the estimated money is yet to be sanctioned.
In another disaster sensitive Didihat sub- division, over 30 students of Kuniya, Panthali, Bamanigar and Bhantar villages are not in position to reach their college at Dunakot, as the a rivulet at Bamanigar has flooded after rains started this year."Besides this rivulet, the Routisgar river is also without bridge , we have instructed our students not to go to school if it rains heavily," said Kharak Singh, a resident of Doonakot village.
Pithoragarh District Magistrate Ashish Chauhan has said that he has instructed the Chief Education Officer of the district to prepare an action plan for the schools, where the students are forced to reach school by crossing the rivers or rivulets."We have also instructed the executive engineer of PWD Askot division to man all the trolley location with PRD or home guards men to check the security aspects of at these trolleys at the time students cross it to reach school and back to their homes," claimed the District Magistrate.