A railway line of prosperity or misery ?
S.M.A.KAZMI
Srinagar Garhwal, Aug 1
The excitement and joy of many highlanders of several villagers of Pauri Garhwal district of Uttarakhand of looking forward to train reaching their respective villagers bringing much awaited connectivity and resultant prosperity in the region has been short lived. Since the work on the Rishikesh-Karanprayag railway line has progressed, the residents of several villagers are finding it difficult to save their houses. Hundreds of such houses in these villagers where tunnels are being dug beneath have developed cracks due to use of explosives to blast the rocks and mountains.
The ongoing 125kilometer long Rishikesh-Karnaprayag broad gauge rail line estimated to cost more than Rs.16,200 crore which will connect Rishikesh in the foothills to Karnaprayag in garhwal Himalayas. The railway line will have 35 bridges and 17 tunnels, of which over 15.1-km-long tunnel from Devprayag and Lachmoli is being claimed to be longest in the country. The project will have 12 stations. The project will help pilgrims travelling to famous Hindu shrines of Kedarnath and Badrinath.
Since the beginning of tunnel blasting work using powerful explosives in 2019, houses in Sweeth village of Pauri Garhwal district have developed cracks. While the blasting work being done by Rail vikas Nigam, the nodal agency for constructing the railway line continues, the villagers are running from pillar to post to get compensation for the damage to their houses and buildings.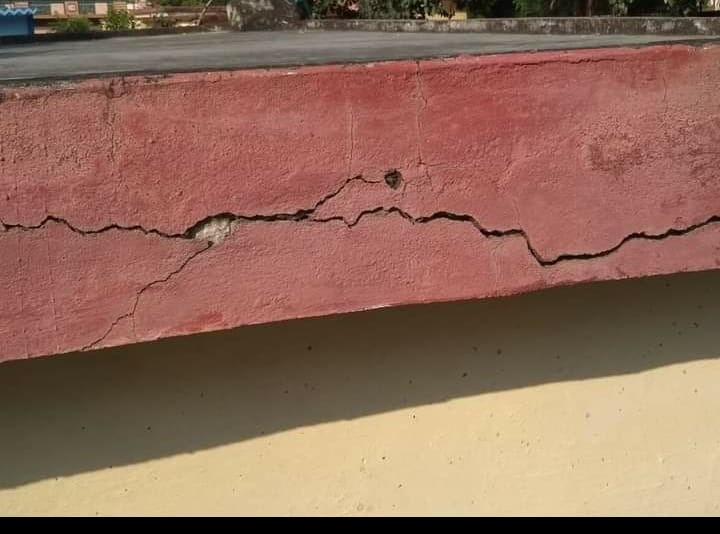 The villagers from Sweeth alleged that powerful explosives were used frequently to drill into the mountains to pave way for the main tunnel from Srinagar to Dobripanth which will be 15 kilometre long. Cases of landslides and houses developing cracks due to tunnel digging  have also increased.The locals claim that  over 100 houses have developed cracks in Sweeth village and similar cracks have also appeared in the houses of villagers from Dhamak Narkota and Dobripanth.
After  protest which led to stalling of the project, a five-member committee headed by the Pauri Garhwal District Magistrate was formed which conducted a survey in December 2021. The committee identified 224 affected families from Sweeth village and a compensatory package Rs. 1.58 crore was recommended and forwarded to the executing agency Rail Vikas Nirman Nigam Limited (RVNL), which has not yet paid any amount so far.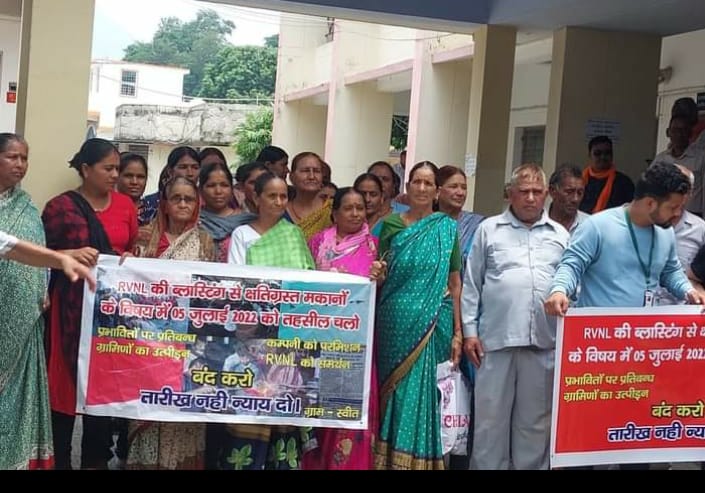 Srinagar Sub-Divisional Magistrate Ajay veer Singh has said that a total of  236 affected families whose houses have developed cracks were identified and a compensation package of Rs.1.58 crore was recommended but as the findings of the study are not conclusive, the executive agency Rail Nirman Vikas Nigam Limited has raised an objection and will present its case before the District Magistrate. He further said that residents of 27 houses in Hydel Colony at Srinagar also reported development of cracks due to tunnel blasting and we have been conducting a videography of developed cracks in the houses and no conclusive evidence has come to fore that the cracks are due to blasting.
The affected villagers including women had protested at the SDM officer at Srinagar on July 5, 2020 seeking compensation and again met Pauri Garhwal District Magistrate on July 27,2022 during 'Tehsil Diwas'.
Dr Mukesh Semwal, secretary of Uttarakhand unit of Socialist Unity Centre of India (SUCI) who was also present during the interaction said that the District Magistrate scolded the official of Rail Vikas Nigam to pay compensation but did not insisted on any time limit for payment.
The officials of the Rail Vikas Nigam Limited officials have refused to pay the compensation, arguing   that a scientific study is needed to determine whether it is due to tunnel blasting work or any other reason. They claim that International standards are being followed for the blasting activity being done on tunnel number six near Sweeth village out of 17 proposed tunnels. They said that a scientific study was needed before conclusively proving that cracks are due to blasting or any other reason. The Rail Vikas Nigam Limited was asked to deposit a sum of Rs. 1,58,15,717 with the office of District Magistrate but to no avail.