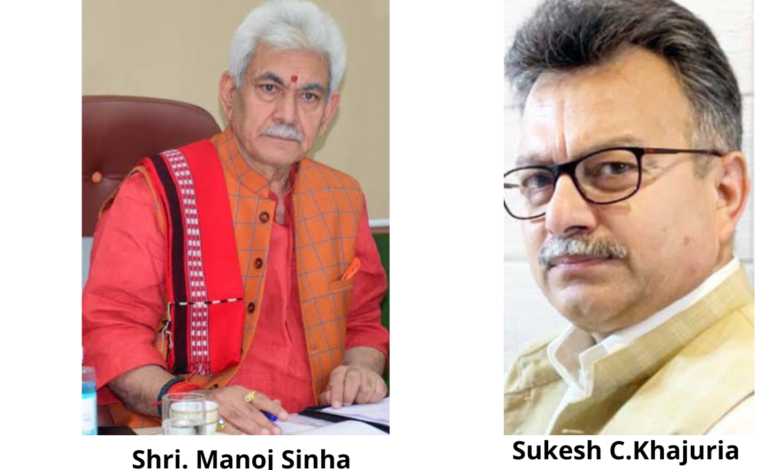 SukeshC.Khajuria seeks probe by CBI or NIA into Udhampur, Kathua killings
Jammu, Sept 4
Sukesh C. Khajuria, an eminent social activist has demanded probe by a central agency into the twin murder cases of senior BJP leader in Kathua and a tailor in Udhampur district of Jammu to unravel any terror links.
A few days ago, two mysterious killings shook Udhampur and Kathua districts First it was disappearance and subsequent recovery of the dead body of Rakesh Khajuria, a tailor master in Udhampur district and then recovery of the dead body of a senior BJP leader, Som Raj in similar manner in Hiranagar. Som Raj's body was found hanging from a tree. Terrorist links in both brutal killing are suspected.
Suspecting terrorist's link, Sukesh Khajuria has requested Lt. Governor Manoj Sinha to hand over both the cases either to NIA or CBI to unravel the mystery behind these killings and nab culprits behind these killings. Interestingly cases handled by central probe agencies, the conviction rate has reached 94% from 75% in 2014.
Sukesh Khajuria has also questioned ' silence' of Dr Jitendra Singh, MOS, PMO – who represents Udhampur constituency in LokSabha.
"People have elected Dr Jitendra Singh to power. It is his prime duty to speak for the people of his constituency. But I am aghast to see his silence over these killings. What kind of representative he is? Sukesh asked.
Sukesh Khajuria also demanded employment to the next of kin (Nok) of both victims instead of usual ex-gratia relief to the families as the families have lost their sole earning members and are finding it difficult to fend for themselves.
Highlighting these mysterious killings, Khajuria said that it is the duty of the state to ensure protection of life and property of the residents and regrettably it has failed to perform its duty.
Rakesh Khajuria of Udhampur went missing on August 1 and his mutilated body was found on August 7, 2022, while the body of Som Raj, a leader of the ruling BJP was found hanging from a tree in Hiranagar on August 23, 2022.
The family members of Som Raj suspect that some BJP leaders are behind alleged murder. Since the body of Rakesh Khajuria was mutilated, it cannot be a natural death but a murder.
Sukesh lashed out at J&K police for its complete failure in preventing such crime in Jammu region. He said that firstly, J&K police failed to trace out both the missing persons even after their family members had lodged missing reports and they were found dead under mysterious circumstances.
He charged that after the discovery of the dead bodies, the police started inquest proceedings under section 174 of Cr.PC and intriguingly, also constituted SIT to probe these gruesome murders but till date no tangible results have come out.
Sukesh said that the track record of J&K police in probing such cases has been very poor. He recalled that two years ago, a SIT was set up to investigate the deaths of thirteen infants due to unchecked spurious drugs in Ramnagar area of Udhampur district but failed to do justice to its mandate, raising serious doubts about its integrity. "All the members of the SIT were transferred in due course of time and even the challan has not been filed by the police in the court even after two years," he said and added that the constitution of SITs is a farce played out by the police to divert public attention.
The social activist said that there are so many unanswered questions in the public mind regarding the death of VanshuBangotra near the Nashri tunnel, Chenani. He urged the Lt. Governor that a thorough probe should be held so that the general public and his family members know about the reasons behind his death and justice is done.
Sukesh said that the criminal silence of the local political leaders, particularly a local MP who is one of the powerful ministers in Modi Govt, Dr Jitendra Singh is all the more intriguing. He lamented the passive role of the local media, political leaders, who otherwise go hoarse on even small trivial issues, are intriguingly down playing these gruesome assassinations and consequently deprived the families of getting justice. It is the collective responsibility of the society to raise voice on such matters and seek justice for the victims & their families.