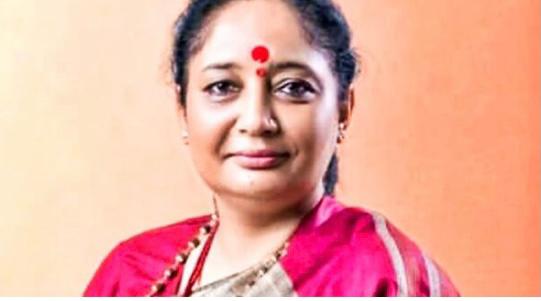 Uttarakhand Speaker announce probe into backdoor assembly appointments
S.M.A.KAZMI
Dehradun , Sept 3
Following uproar large scale over back door appointments in Uttarakhand state assembly by respective Speakers belonging to both ruling BJP and main opposition Congress party  since the inception of the separate state, Uttarakhand Assembly speaker Ritu Khanduri today ordered a high level probe into such appointments.
Ritu Khanduri who is daughter of former Union Minister and Uttarakhand Chief Minister Maj. Gen. B.C. Khanduri on her return from her overseas tour of Canada where she had gone to attend a parliamentary conference announced the formation of a probe panel headed by Dileep Singh kotia, a retired IAS officer of the state. Two other former bureaucrats namely Surinder Singh Rawat and Avnendra Singh Nayal will be part of the probe committee. She said that the committee will give its' report within one month.
Ritu Khanduri ordered a probe into the state assembly appointments following a letter written by Uttarakhand Chief Minister Pushkar Singh Dhami requesting her to inquire into the entire issue. The state BJP government has been under tremendous pressure following reports of illegal and back door appointments in state assembly by former speakers including Prem Chand Aggarwal who is presently the Finance Minister of the state. The examination paper leak scandal involving a BJP leader and similar such scandals in other recruitments have rocked the state BJP government in the past one month.
Ritu Khanduri also sealed the office of the secretary of state assembly  Mukesh Kumar Singhal and asked him to proceed on leave till the pendency of the probe. However, he will assist the probe panel as and when required by it. Mukseh Kumar Singhal, Secretary of Vidhan Sabha had reportedly got two promotions in a single day during the tenure of Prem Chand Aggarwal.
It was alleged by the opposition Congress that  Uttarakhand Assembly having only 70 legislators have more than 560 employees while the mother state of Uttar Pradesh having 400 legislators have only 543 employees.  It was charged that near and dears one of BJP leaders including former state BJP president, wives of two OSDs of Chief Minister and personal staff of ministers have been recruited.
Interestingly, it came to light that not only BJp but during the Congress regime, Govind Singh Kunjwal, the then Speaker who is considered a 'Gandhian' also indulged in such recruitments giving jobs in state assembly to his own son and daughter-in-law and other near and dears ones.