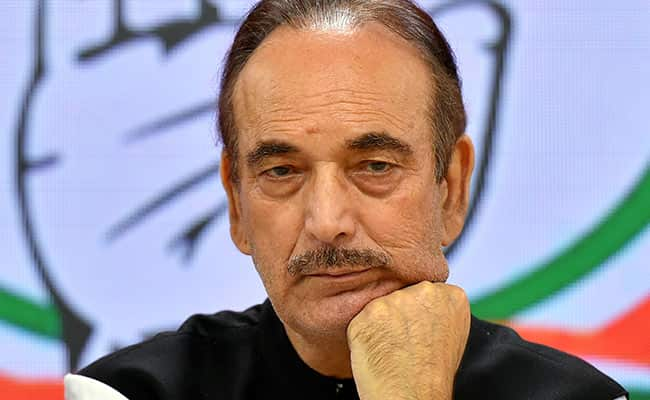 Ghulam Nabi Azad not that 'Azad' in his home state, burdened by his past, ground realities
Manu Shrivatsa
Jammu, Sept 8
The buzz of the week in troubled state of J&K as well as elsewhere in the country remained the resignation of senior Congress leader and former J&K Chief Minister Ghulam Nabi Azad from Congress and the setback his exist would cause to the grand old party of the country particularly in his home state.
But the developments after his resignation from Congress and his public rally at Jammu on September 4, indicates that his reported plans to hurt his old party in the state did not happened as of now. His reported plan to "destroy" and completely sabotage the J&K Congress did not materialise much to his chagrin.
After the initial euphoria of some of his loyalist former legislators and party leaders resigning from Congress party and the response he received on September 4 indicate that  Azad's entire plan to damage the Congress on a large scale has been sabotaged.
In fact, despite Azad's best effort immediately after his resignation to persuade his protégé and J&K Congress Chief Vikar Rasool Wani, whom he helped anoint as the new State Congress Chief, could not be successful. Vikar Rasool Wani in his own wisdom decided to stay put and he even criticised his mentor.
Had he left the party as planned by Azad, J&K Congress should have suffered a major blow and it would be difficult for Congress to recover.
The first major relief for the J&K Congress, is that State Congress President Vikar Rasool Wani has opened a front against Azad and refused to go with him. Not only Wani but none of the office bearers of party has left. All the frontline leaders are still associated with the party.
Vikar Rasool Wani,a young leader who recently became the President of Jammu and Kashmir Pradesh Congress, has shown political acumen and maturity by not going with Azad. He has a long political future ahead of him and getting the responsibility of the State Congress at a young age with the help of Ghulam Nabi Azad is a major achievement of his political career so far.
It is noteworthy that Vikar Rasool Wani and Ghulam Nabi Azad had a very close relationship and on the recommendation of Azad, the Congress high command handed over the command of Jammu and Kashmir Pradesh Congress to him on August 16. But on 26 August, just ten days after his appointment, Ghulam Nabi Azad resigned from the Congress.
Interestingly, what happened in ten days that Ghulam Nabi Azad had to leave the Congress, that too when the state Congress got a new president on his own recommendation. According to insiders, the plan was to bring his own man in Vikar Rasool Wani as J&K Congress chief and then leave the party lock,stock and barrel with almost the entire J&K Congress unit. But, it did not happen.
Azad faction was already angry with the party
In fact, most of the leaders who joined hands with Ghulam Nabi Azad are old and politically outdated. The average age of those who joined Azad's fold is around 70 years. There is nothing much expectation from tired and politically disappointed leaders and Azad hopefully understands the stark ground reality. These leaders instead of giving strength to the new party of Azad would be a burden for him. Most of these leaders who had tried their political luck in the past three decades expect some kind of miracle with Azad for their political rehabilitation.
It is a fact that all those who chose to go with Azad were already angry with the Congress party. These leaders, known as the 'Azad faction', had boycotted the former state Congress President Ghulam Ahmed Mir for seven years and did not attend any of the programme of the party in all these years. The Azad faction was continuously pressurizing the Congress high command to remove Mir from the post of president.
When the Congress high command did not pay anyheed to his demand, all the pro-Azad leaders had resigned from all the posts of the party on November 17 last year at the behest of Azad. In such a situation, technically all the people of the 'Azad faction' had been 'discharged' from party posts.
Interestingly, all of them are crying hoarse that they have become 'Azad" from Congress. But,no one is asking whether these leaders had themselves  'liberated' themselves from Congress party already last year. The trouble is that nowadays the media has stopped asking questions.
Most of the supporters of Ghulam Nabi Azad, who have left the Congress so far, except two or three leaders, are so weak politically that they never contested or won elections in their entire lives. Some his supporters like Rajendra Singh Chib t have tried almost all the parties but could not win any election. There are some names like Balwan Singh who won the election once 39 years ago in 1983 and after that never won. However, with the help of Azad, such leaders did get tickets nominations in every election. While there are some names like Tara Chand, a former Deputy Chief Minister on whom many serious allegations have been made while being a minister. There are about ten leaders who have lost badly in the 2008 and 2014 assembly elections.
Ghulam Nabi Azad himself also appear to be in such a hurry  and haste that he has forgotten that the ground situation of Jammu and Kashmir, which he had left years ago, has changed in a big way. There is a big difference between sitting in Delhi and seeing the beautiful natural scenery of Kashmir and to know the ground reality and the pulse the people of the entire state. A lot of water has flown in the rivers of Chenab and Jhelum and the distance has increased in both the parts of the state- Kashmir and Jammu over the years due to variety of reasons.
There has also been tremendous polarization in the Hindu-majority and Muslim-majority areas of Jammu division. It is difficult to find a place for Ghulam Nabi Azad and his supporters in this atmosphere of mistrust between the two major religious communities. The extent to which the communal polarization has taken place has been experienced by Azad himself in the 2014 Lok Sabha elections.  Azad, contesting from the Udhampur-Doda Lok Sabha seat, got a negligible vote from Hindu-dominated areas. Now the situation has turned even worse in these eight years. The mistrust and communal polarization has deepened since the abolition of Article 370 on August 5, 2019. In such a grave situation, there is very little scope for Azad and his comrades to get support from the Hindu-dominated areas of Jammu division.
If Ghulam Nabi Azad is going to start his political party on the basis of only a few assembly seats in two districts like Muslim-dominated Doda-Kishtwar of Jammu division, then it would be safe to say that his efforts are not serious and his motive are doubtful except to harm the Congress party in the Hindu majority Jammu region.
The situation in Kashmir division is even worse for him. Both the National Conference and the People's Democratic Party (PDP) are strong political parties apart from smaller outfits like People' Conference of Sajjad Lone and 'Apni Party' of Altaf Bukhari having their own base. Ghulam Nabi Azad who has never indulged in grass root politics except for a brief period when he was Chief Minister  for two years and eight months, most of his politics was to control the J&K Congress remotely sitting in the national capital. It will be very interesting to see how Ghulam Nabi Azad will be able to position himself, where is perception is been created that he is doing it all at the bidding of the BJP central government.
Azad may have been educated in Srinagar and also claims to have a huge mass base in Kashmir, but it is a fact that the common Kashmiri never considered him as his own.
After leaving Congress, the political leaders of Kashmir come out openly against him. Apni Party chief Altaf Bukhari is continuously making direct and sharp attacks on him charging him with playing an important role in abolishing Article 370 and helping the Bharatiya Janata Party (BJP). He has even alleged that Azad had voted in the Rajya Sabha in favor of abrogating Article 370.
Altaf Bukhari and some other Kashmiri leaders are projecting Ghulam Nabi Azad as a 'villain' on the issue of Article 370. While,questions have been raised in the past, about Azad's stand on this sensitive issue, his silence regarding the situation after the abolition of Article 370 has been intriguing.
National Conference President and former Chief Minister Farooq Abdullah who has been political 'friend' of Azad in the past has also blamed Azad for leaving the Congress.
There has also been a stir among the Congress leaders of Kashmir after the resignation of Ghulam Nabi Azad. Veteran Congress leaders Saifuddin Soz and Tariq Hameed Karra have suddenly become active and have joined hands, forgetting their old differences.
It is noteworthy that when Saifuddin Soz was the state Congress president, he had to face opposition from Azad and his faction. Saifuddin Soz has not forgotten the non-cooperation attitude of the Azad faction and still gets emotional remembering Azad's machinations.
There are many questions on Kashmir, which may be difficult for Azad to answer in the coming days. Many leaders of Kashmir are asking him that when the common people in Kashmir were getting crushed in the dark period of terrorism in the nineties, what did Azad do to help the common man while being a Union Minister ? Is it not true that during that period Azad had kept a 'safe distance' from Jammu and Kashmir? He had even stopped visiting his ancestral home.
Questions have been raised on Azad's role in the days of terrorism, while questions are also being asked on his stand after the abolition of Article 370 on August 5, 2019. Azad gave a tremendous speech in the Rajya Sabha in favor of Article 370 but never considered it appropriate to protest by taking to the road. After the abolition of Article 370, almost all the Kashmiri leaders were taken into custody. Even three former Chief Ministers namely Farooq Abdullah, Omar Abdullah and Mehbooba Mufti were put under house arrest for almost a year. Senior Congress leader Saifuddin Soz also remained under house arrest for a long time.
But it was only Ghulam Nabi Azad was such a leader who never had to face any such ordeal and was a free man despite being a former chief minister like all those detained.
Ghulam Nabi Azad may try to forgot those days for political expediency but the common Kashmiri remembers everything. It is would not be an easy task for Azad to survive and again thrive in the complicated and troubled politics of Jamm & Kashmir.
( Manu Shrivasta is a senior journalist and a former President of Press Club of Jammu.)