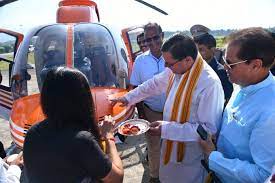 Pithoragarh helicopter service fail to evoke response
B.D.Kasniyal
Pithoragarh, Sept 8
The much published helicopter service from Pithoragarh to Dehradun and vice versa, resulted failed to evoke any enthusiastic response from general public as only two passengers reached Pithoragarh in the Pawan Hans company helicopter on its; inaugural flight on Thursday.the helicopter service which took off after 54 days of its' announcement returned to Dehradun without any passenger. No seat was booked for its' return journey to Dehradun..
"We do not have further bookings  and in such a situation it is difficult to ensure that the helicopter service from border district would continue," said Javed Baksh, a Pawan Hans company official based in Pithoragarh.
According to Pawan Hans company officials, the weather in Pithoragarh is not suitable to fly a helicopter even after the monsoon has weakened." Due to bad weather, the pilots had to fly in between the narrow valleys amidst dense fog. It will be possible to run regular service to Pithoragarh only after the weather gets clear," said D.P. Arya, another Pawan Hans official in Dehradun.
The Uttarakhand government had announced two routes for helicopter service to Pithoragarh. The first one was from Dehradun via Haldwani to Pithoragarh, while another was Dehradun via Almora to Pithoragarh." After inaugurating the service in Dehradun on August 26 this year, while Haldwani route flight reached Pithoragarh today, the flight  from Almora route is still awaited,." said Mukesh Pant, a senior Congress leader in Pithoragarh.
The air services to Pithoragarh from Dehradun and Delhi, being run under UDAN scheme announced by Prime Minister Narendra  Modi, was closed due to technical reasons, two years ago. On popular demand, the state government had announced helicopter service from Pithoragarh to Dehradun in April this year. "After the said helicopter became available in July, after remaining under maintainace for 3 months, the service was running between Pantnagar and Dehradun as due to bad weather it could not reach Pithoragarh," said Pawan Hans company official.
President of Pithoragarh Hotel Association, Rajendra Bhatt has said that regular air service is need of the district as it needs tourists from cities like Dehradun and Delhi to boost the tourism in the district." The arrival of helicopter on Wednesday was sudden and unexpected, the people had lost hope of it  after it did not reach in 45 days after announcement, if it runs continuously we can gurantee full capacity of  passengers from Pithoragarh in every flight," said Rajendra Bhatt.