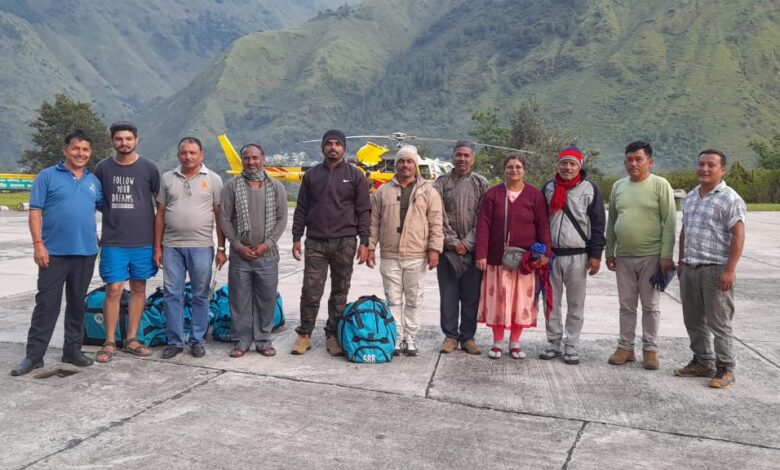 B.D.Kasniyal PIthoragarh, Sept 13 A total of 46 persons, including 27 pilgrims  of 19th batch of Aadi Kailash and OM parwat pilgrimage were lifted to Dharchula  by helicopters from Bundi village to Dharchula by district administration.
"The Aadi Kailash pilgrims, were trapped at Bundi camp from last 4 days due to closure of Tawaghat to Lipulekh road at Malghat from last 4 days."said Nandan Kumar SDM Dharchula.
The pilgrims were from Gujrat, Delhi, UP and Maharastra, and they showed much relief after taken to Dharchula base camp of the yatra."We had nice Darshan of Adi kailash and Om parwat, but on our return journey our group was kept at Bundi for 4 days, from where the state government helicopter picked up us to Dharchula, we are very thankful to local administration for giving us relief."said  Shobjana, a pilgrim from new delhi.
The administration has said that it took 8 sorties to take all 46 persons to Dharchula."besides these pilgrims,  the helicopters also lifted some sick women   to different hospitals from high altitude villages including Bhagirathi Devi and Suzuki Devi of Pato village,Thaili Devi of Bangapani and Kalavati devi of Making village." Said Mahesh Joshi, incharge of beli rescue operation.