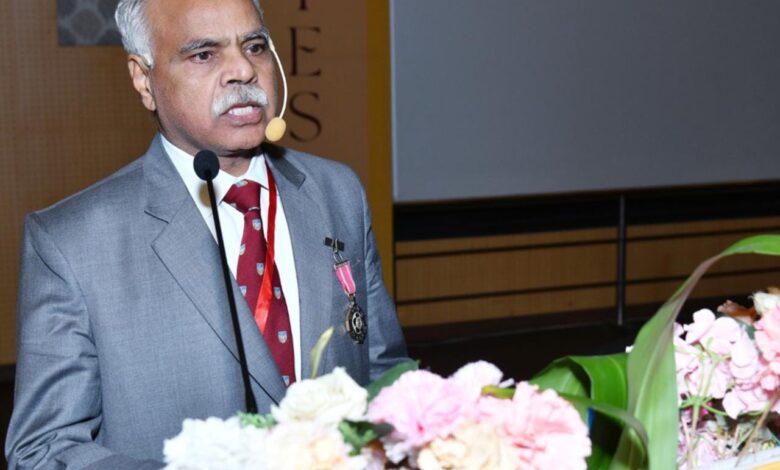 Padma Shri Dr. B. K. S. Sanjay delivered Dr. SC Gaur Oration at Prayagraj
Dehradun, Nov 15
Padma Shri awardee Dr. B. K. S. Sanjay, Director, Sanjay Orthopaedic, Spine and Maternity Centre was honored to deliver the prestigious Dr. SC Gaur Oration during 'Platescon 2022' at Allahabad Medical Association Convention Centre, Prayagraj today. The conference was organized by Dr. NK Agrawal, Dr. KD Tripathi and Dr. Manishi Bansal of Prayagraj Orthopaedic Association. Dr. SC Gaur was a renowned orthopaedic surgeon of his time who had contributed immensely in the growth and development of UP Orthopaedic Association.
The conference was inaugurated by Chief Guest Dr. Ram Chadda, guest of honor Padma Shri Dr. BKS Sanjay, Dr. DD, Tanna, Dr. KD Tripathi and Dr. Manishi Bansal. Dr. Sanjay said, "The health of the limbs is as important as that of the heart" as the growth of any individual depends upon locomotion and locomotion is important at every stage of life, however, it is all the more important in childhood.
According to 2011 census 20% of the disabilities are the locomotor disabilities. Main causes of deformity are Polio, Club foot and CP. However, road traffic accidents have taken over the all deformities in the recent years, he added.
Any type of disability causes not only physical harm but also mental, economic and social loss. We all need a conducive environment to grow and develop in existing environment and circumstances but disabled people need more. The needs of people with disabilities are the same as those of a capable person, he said.
The correction of deformities should be done as soon as possible. The perception of the common people is that children should be operated only when they become mature but sooner the correction, better the result. Dr. Sanjay also told that plate is the only option for the fracture around the joint and when fracture can be fixed with the smaller and simple implants then there is no need of bigger and expensive plates.
"I would like to say that if the health of the feet of all of us was not good and we were not walking, then we would not have reached where we have reached today. In other words, those who are not able to walk, will not be able to reach where we have reached. They can only dream and people who walk can not only dream but also can fulfil their dreams.  Deformity and disability due to any reason should be rectified as soon as possible because the plants can be straightened easily, not the trees, " he added.
It is pertinent to mention, considering social contribution of Dr. BKS Sanjay in the field of hygiene and sanitation, Nagar Nigam, Dehradun has appointed as a brand ambassador a few days ago.