Featured
Uttarakhand
Honorary doctorate to folk singer Narendra Negi and actress Himani Shivpuri at third convocation of Graphic Era University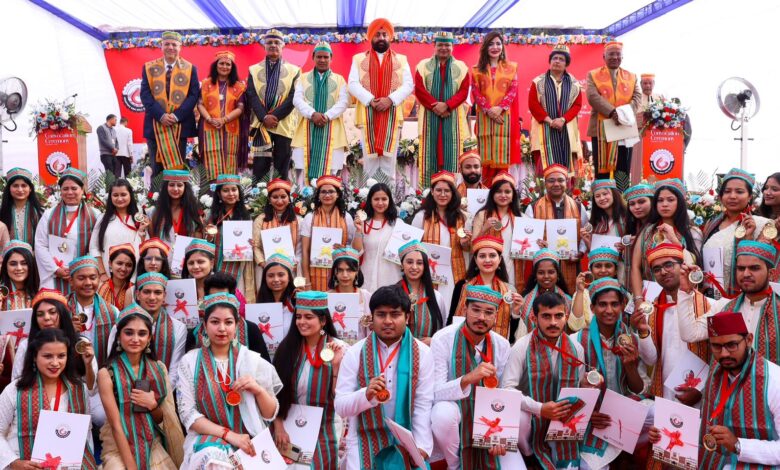 Honorary doctorate to folk singer Narendra Negi and actress Himani Shivpuri at third convocation of Graphic Era University
Dehradun, November 22
The Graphic Era University conferred Honorary Doctorate on popular Garhwali lyricist  and folk singer Narendra Singh Negi and eminent film actress Himani Shivpuri, apart from awarding 91 gold and as many silver medals, to 6800 students who were awarded degrees at the third convocation ceremony of the university held on November 21, 2022.Uttarakhand  Governor Lt. Gen. (Retd.) Gurmeet Singh presented the degrees.
In his address, he said that the awardees are the future leaders of the country  and should start thinking like a leader. Those who get degrees and medals have an additional responsibility of making Uttarakhand and the country proud
In his convocation address, Governor Lt. Gen. (R) Gurmeet Singh, while appreciating the continuous and rapid progress of Graphic Era Hill University, said that the way Dr. Kamal Ghanshala has taken the Graphic era University to new heights through progress made in the fields of  computer science, artificial intelligence and other new research works.
Expressing happiness over the number of girl students being awarded gold medals , Chief Guest Governor Gurmeet Singh said that the women of the mountains have proved their capability and hard work since the Chipko movement and formation of the new state till now. Calling for serious steps to stop migration from the mountains, he said that now efforts should be made for reverse migration. The Governor appreciated the award of honorary degrees to actress Himani Shivpuri and folk poet Narendra Singh Negi as a mark of respect for the heritage of Uttarakhand.
Higher Education Minister Dr. Dhan Singh Rawat, while addressing the ceremony as a special guest, said that along with the implementation of the new education policy in Uttarakhand, many steps have been taken. Preparations are being made to provide education in 12 languages ​​in the state and any child can get primary education in his mother tongue.
Chancellor of Graphic Era Hill University and President of Graphic Era Group of Institutions, Dr. Kamal Ghanshala, called upon the youth to avoid communication gap, maintain connectivity and try to identify those who are insecure and bring them into the mainstream. Dr. Ghanshala called upon the degree and medal recipients to dream and  the best dream is the one, which does not let you sleep at night. On completion of one dream, see another dream, bigger than that and get involved with all your might to fulfill it.
Vice-Chancellor Dr R Gowri highlighted the stupendous achievements of Graphic Era Hill University in the last eleven years. She said that along with high quality education, youth are being groomed as excellent citizens by including social concerns and moral values. She administered the oath of the responsibilities towards the country, society and family to the degree receiving students.
Vice Chairperson, Graphic Era Group of Institutions, Rakhi Ghanshala, expressed gratitude to the guests at the function. R.C.Ghanshala, Chief Patron of Graphic Era Group, Graphic Era Educational Society , Lakshmi Ghanshala, Chairperson, Graphic Era Deemed University, Chancellor Dr RC Joshi, Vice Chancellor Dr Sanjay Jasola, Governing Body members Senior Environmentalist Chandi Prasad Bhatt, Dr RN Sachdeva and Retired IAS Alka Sirohi, Management Board Members Dr Subhash Gupta, Dr Jyoti Chhabra, Academic Council Prof. A.Q. Ansari, Registrar Dr. Arvind Dhar and all the office bearers were present.