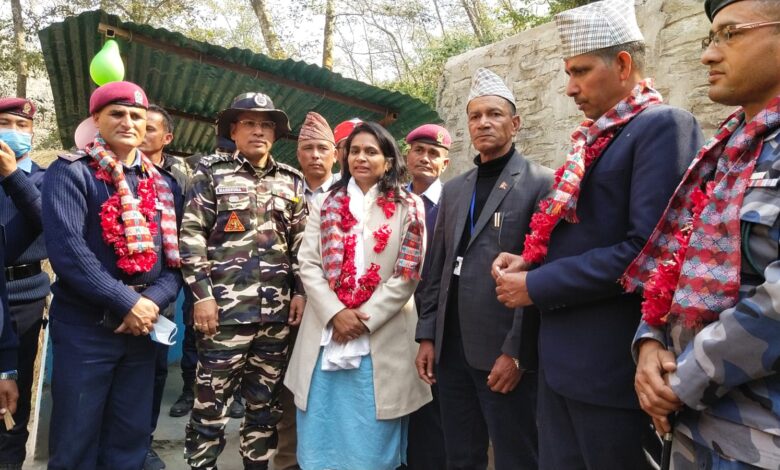 Two more suspension bridges inaugurated on Indo-Nepal border across river Kali
B.D.Kasniyal
Pithoragarh, Feb 17
two suspension bridges on river Kali, which form the border between India and Nepal in Pithoragarh district of Uttarakhand state, at Gasku and Malghatya localities between Tawaghat and Malpa on the border were inaugurated jointly by Pithoragarh District Magistrate Reena Joshi and Chief District Officer of Darchula district of Nepal, (equivalent to District Magistrate in Indian administrative set up) Deergh Raj Upadhay on February 16.
"The suspension bridges, which were 140 and 135 meters long respectively having capacity of bearing a weight of 42 tonnes, will benefit  a population of over 10000 people, living in the remote border region of both the countries," said Reena Joshi, District Magistrate, Pithoragarh. Both the bridges in Dharchula tehsil of Pithoragarh district are at a distance of six to seven kilomteres from each other.
These bridges will benefit  the villages of Jaykot, Pangla, Gasku, on the Indian side and Mall, Rapla, Dumling, and Susarpani  villages of Nepal, situated across the river Kali.
Mangal Singh Dhami, chief  of Nagar Palika of Darchula town of Nepal, said on the occasion that the inauguration of bridges will lessen the chances of risk to the  lives of citizens of both the countries while  crossing the river during floods which they used to do by the means of wires, drums or tubes." The people from both the countries will now be able to take their marriages parties from these bridges as the marriage parties wanting to enter either countries had to cover long distances  to reach the earlier avialble bridges, " said the Nepalese leader.
With the commissioning of these two suspension bridges the number of total bridges on Indo- Nepal border in this part of the country has gone to eleven." The increased transportation facilities between the two countries will enhance the traditional relations of "Roti, and Beti" between two countries," said Deergh Raj Upadhaya, CDO of Darchula district of Nepal.