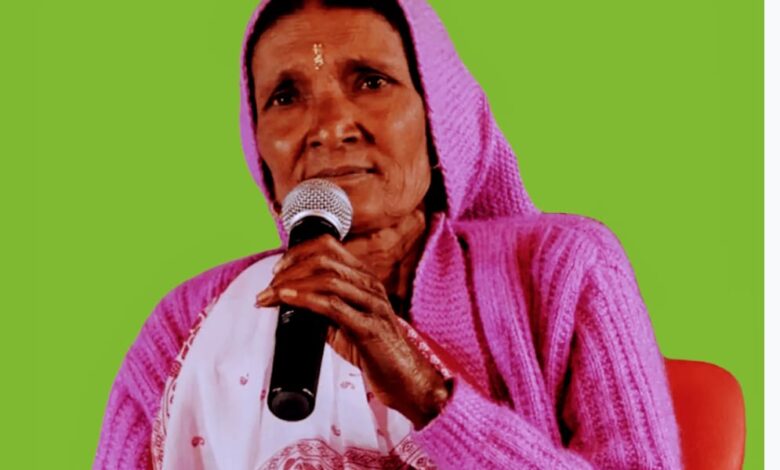 A book on famous folk singer Kabootari Devi on anvil
Prem Prakash  Upadhyay
Bageshwar, April 5
A book will be published on the work of famous folk singer of Kumaon Kabootari Devi. Indira Gandhi National Center for Art,New Delhi is preparing  a book on Kabootari Devi, so that the future generation know about the contribution of the legendary singer.
Born in a family of folk singers of Champawat, Kabootari Devi was married in village in Kwatad village of Pithoragarh district. During 1970s', she sang more than a hundred folk songs in Kumaoni songs for All India Radio(AIR) and these songs were broadcast from All India Radio (AIR) centers of Rampur, Najibabad, Lucknow and Mumbai. In that period millions of people were admirers of her melodious voice. Living in poverty during later years of her life, Kabootari Devi passed away on July 7, 2018.
A team from Indira Gandhi National Center for Art, New Delhi comprising Dr. K. Anil Kumar and Lakshmi Rawat, reached Pithoragarh from Delhi to collect information about Kabootari Devi. Sudhir Kumar and other local artists were also assisting the team.
The eminent folk singer, who sang the songs of struggle and fatigue of hill women as well as common man, was described as "true reflection of 'Pahar". "Not only her songs were original, but the lyrical depiction of nature and life in Kumaon was real. There was pain and happiness in her voice," said Dr. K. Anil Kumar .
Kabootari Devi was the first woman folk singer from the Kumaon region of Uttarakhand to be featured on All India Radio. Kabutari Devi's early years were full of considerable hardships. She famously known as the "voice of the hills" and even though her work lives on, the establishment seems to have forgotten her
The team also went to  Bhava Raga Taal Natya Academy, London Fort and met theatre artist Kailash Kumar.. They praised Kailash Kumar for his work in furthering the theatre in the border district.They also sought information about the masks of the famous 'Hilljatra' characters of Pithoragarh and local handicrafts.