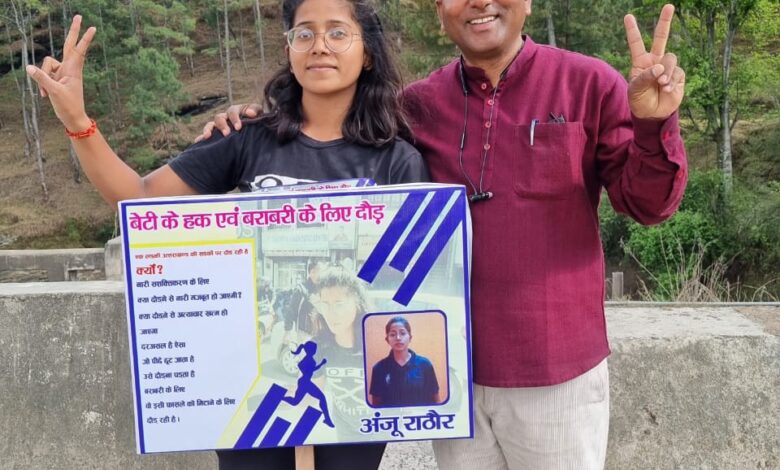 On a mission to spread awareness of girls' education in hills
B.D.Kasniyal
Pithoragarh, April 5
Anju Rathor, a 22 years old girl hailing from Kiccha, Udham Singh Nagar, is on a mission. She has been running across Uttarakhand state with a message to the parents to educate and save their girls.
She started her journey March 17, 2023 and will continue running for next 40 days across the villages and towns of state talking to people and giving her message.
Rathor, who reached here today on her way to Bageshwar said that she has covered 5 districts of the state and tried to make the people aware about the importance of girls' education .
" In my talks with rural folks, I find the taboo of marrying girls early is still prevalent and the problem needs to be addressed at social level rather than at government level," she said.
Anju Rathor said that she has a target to travel over 2000 km in Uttarakhand districts. She has already covered nearly 400 km and plans to travel 1600 km more in  Kumaon and entire Garhwal region in the coming days.
Asked what inspired her to undertake the mission, Anju said that it was her own story that inspired her to make the parents aware about the importance to educate their girl children and not to marry them early."When I passed my intermediate, I wanted to persue my education in engineering  but my parents opposed my education and wanted to marry early," she said.
According to Anju, her community generally marry their girls between  the age of 12 or 13."Due to denial of further education, it always pained me to work for education and safety of girl child in my state, and I left my job of a cook in Indore," said Anju Rathor.
She said that her parents have not opposed her mission and it is their contribution   towards her mission to make parents aware about the importance of education of girls.