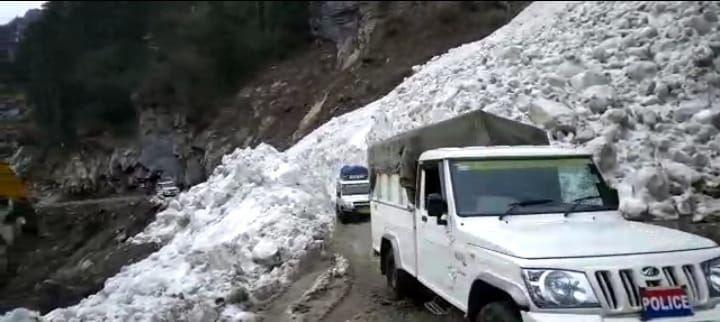 Unseasonal snowfall after 15 years in Pithoragarh
B.D.Kasniyal
Pithoragarh, April 22
Heavy snowfall in the month of April, in the high Himalayan regions of Vyans, Darma and Johar valleys of Pithoragarh district, this week has broken the record of last 15 years as similar heavy snowfall in the month of April was witnessed in the year  2008.
According to locals, Khalia Top, the famous tourist destination  of Munsiyari has also witnessed snowfall this week after  the year 2008." The snowfall began from Thursday night and continued till Friday evening," said Puran Pandey, a tourist hotel owner in Munsiyari.
"The untimely and unexpected snowfall had resulted into glacial sliding on the roads  and towards high Himalayan valleys, followed by blockages of routes to Milam, in Johar and Lipulekh route on Indo- China border in Vyans valley. However , all the roads have now been opened," said Devesh Shashni, SDM, Dharchula.
The SDM said that the snowfall this month does not cause much hurdle as the snow  melts easily due to summer temperature. The 'Adi Kailash' and 'Om Parvat yatra' this year will be organised from May 4, this year.
According to the local sources, the Tawaghat to Lipulekh road closed for two days from Friday onwards due to snow slide at Syepi and Khungla nullah on Tawaghat- Lipulekh road." Several glacial pieces have slided on the road at Syepi and Khungla making the area unapproachable ," said Krishna Singh Garbiyal, a resident of Garbiyang village of Vyans valley.
The tourists, reached Munsiyari from Nainital to witness snowfall on high Himalayan reaches, have expressed joy on witnessing live snowfall on the night of Friday."It is our luck to witness live snowfall in Munsiyari first time in our life and we cannot forget the moment," said Atal, a tourist  from New Delhi, who had reached Munsiyari to witness snowfall.