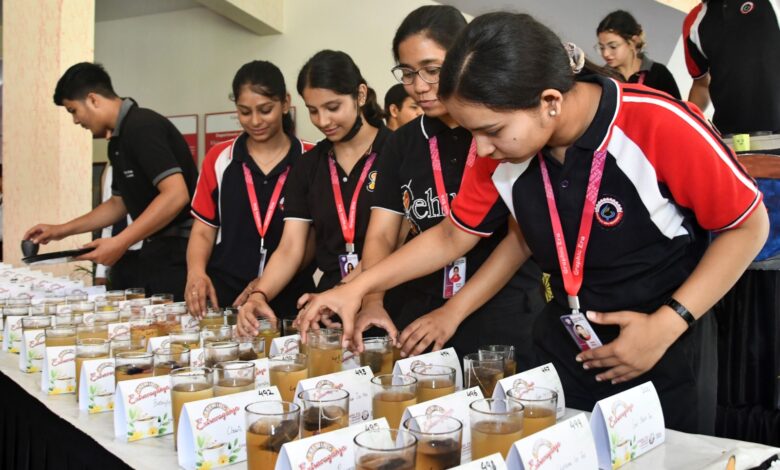 Graphic Era's Hotel Management Department creates record with 500 varieties of tea
Dehradun, May 25
Graphic Era Deemed University has achieved yet another record by making 500 varieties of world's most favorite beverages tea, which has created a distinct identity in the world of beverages. With this achievement, Graphic Era's Hotel Management department has achieved a new milestone. Hotel Management team of 25-members surprised everyone by making 500 types of tea in just 1 hour and 37 minutes.
The unique factor in setting up this record is the international and traditional taste were seen in it, where on one hand Buransh tea, Kashmiri Kawah, Rajasthani Royal tea, Ladakh butter tea were also prepared and tasted.
On the other hand international tea brands like, Oolong tea, Darjeeling tea, traditional double fermented tea, Morroso pepperment tea were also made. Mint Lemon Tea, Honey Tea, Ashwagandha Tea, Peach Tea, Fennel Tea, Mulethi Tea, Basil Tea also became a part of this record for health conscious people.
In making these 500 types of tea, not only different types of substances but different techniques were used . The team of 25 students and teachers started preparing the tea at 11 am in front of the judges.
This team was headed by Hotel Management head, Amar Dabral. In exactly 1 hour and 37 minutes, the team prepared all 500 types of tea and displayed them with their titles.
The program was inaugurated by Prof. Dr. Kamal Ghanshala, Chairman, Graphic Era Group of Institutions. He said that such events not only boost the morale of the students but inspires them to move ahead in the era of competition and also make them industry ready.
Amar Dabral, leader of the team, said that it is the department's effort to expose the hotel management students to different cuisines of the world.
Dr. Rakesh Dani, Head Chef Mohsin Khan, students Siddhant Semwal, Abhishek Rawat, Rudraksh Dhar, Cheshta Sharma, Sabina Gurung, Sneha Garg, Sachin Lamba were amongst those in the team that prepared these 500 varieties of tea.
Vice Chancellor, Graphic Era Deemed University, Dr. Narpinder Singh, Vice Chancellor, Graphic Era Hill University, Dr. Sanjay Jasola, Dr. Yashpal Negi, Principal, SIHN New Tehri, Devendra Khatri, Principal, GIC attended the event.