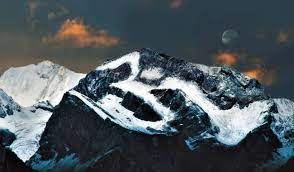 'Adi Kailash, Om Parvat Yatra' suspended for two months
B.D.Kasniyal
Pithoragarh, July 6
The pilgrimage to 'Adi Kailash' and 'Om Parvat' mountain in Pithoragarh district of Uttarakhand has been suspended for two months due to ongoing monsoon season. Already a  total of  225 pilgrims till date had visited 'Adi Kailash' and 'Om Parvat' from across the country, as the yatra has been suspended for next 2 months of monsoon period, said Dhan Singh, incharge of yatra base camp at Dharchula.
" Keeping the monsoon season and frequent landslides on Tawaghat to Lipulekh road, on the way to 'Adi Kailash', we have decided not to take new bookings for the yatra." said Dhan singh
The 'Adi Kailash yatra', that began from May 4, this year, has so far witnessed 20 batches of pilgrims." The 5 member of the  20th batch have returned today," said the base camp incharge.
The 'Adi Kailash' and 'Om Parvat yatra',  is being promoted as an alternative to 'Kailash Mansarovar yatra', which has been suspended from last 4 years following Covid pandemic.
The 'Adi Kailash yatra' , has also been affected by landslides on the way several times during last two months. The first two batches of Yatra could not visit the 'Adi Kailash' due to road blocks on Gunji to Kuti road ."despite these problems all 18 batches had the privilege to have 'darshan' of 'Adi Kailash' and 'Om Parvat'," said the officer.
According to Kumoan Mandal vikas Nigam(KMVN), a state government undertaking, officials the yatra will be resumed in the month of September when monsoon will recede.