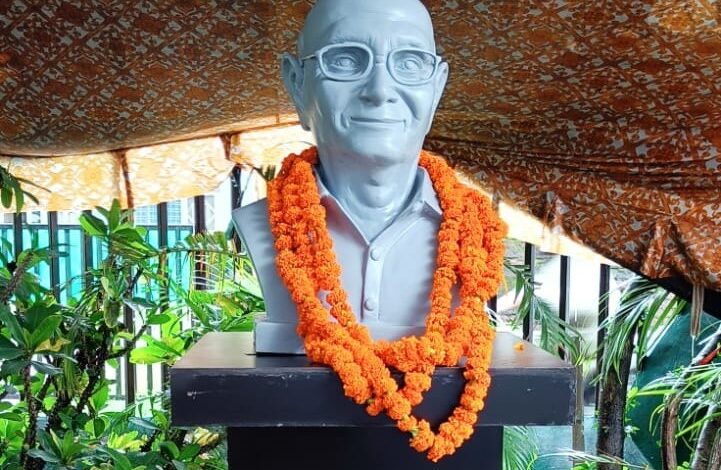 Padam Shri Avdhash Kaushal remembered on his first death anniversary
Dehradun , July 13
Padma Shri Avdhash Kaushal, founder and former chairperson of  Rural Litigation and Entitlement Kendra (RLEK), a renowned organization dedicated to championing social justice and sustainable development, was solemnly remembered on his first death anniversary at a function held here on Wednesday.
The commemorative event, served as a testament to Avdhash Kaushal's invaluable contributions and unwavering commitment to empowering marginalized communities and safeguarding their rights. The event was graced by the presence of Sunil Uniyal 'Gama',Mayor of Dehradun, as the Chief Guest and  Khajan Das, MLA, Rajpur Road, Dehradun and Anupam Trivedi, senior journalist, as the guests of Honor.
The event's highlight was unveiling of Padma Shri Avdhash Kaushal's statue. The unveiling of the statue was performed by the  guests. A documentary was shown regarding the crucial milestones that he achieved during his lifetime. A presentation was shown, which revealed some precious moments of his personal life and professional .
During his illustrious career, Padma Shri Avdhash Kaushal fearlessly took up causes related to land rights, forest conservation, tribal rights, and the protection of human rights. His pioneering efforts resulted in establishment of landmark legal victories, setting precedents for environmental protection and social justice in India. RLEK, under his leadership, successfully fought numerous legal battles, ensuring fair compensation, rehabilitation, and land rights for marginalized communities.
The Chief Guest Sunil Uniyal 'Gama' shared his sentiments connected with Padma Shri Avdhash Kaushal, ande threw light on the cases  Kaushal fought for the good causes he also advised the RLEK team to follow the path treaded by him.
i Khajan Das  summarising all his achievements in different interests of the society and how he always stood firm against any force no matter how tyrannical they were.
Mrs Pratima Menon, the Chairperson of RLEK, in her speech stated, that her father founder and former Chairman of RLEK believed in the idea of "Vasudhaiv Kutumbkm" (Earth is my home) and she vowed to walk on the path of truth, honesty and bravery shown by him.
Senior journalist  Anupam Trivedi expressed how he and  Avdhash Kaushal have been working together over the years and how they talked about various vital issues striving to find an efficient solution.
By ensuring access to justice, advocating for social and economic entitlements, and fostering sustainable development, RLEK aims to fulfil Avdhash Kaushal's dream of an equitable and harmonious society, a press release of RLEK said,.