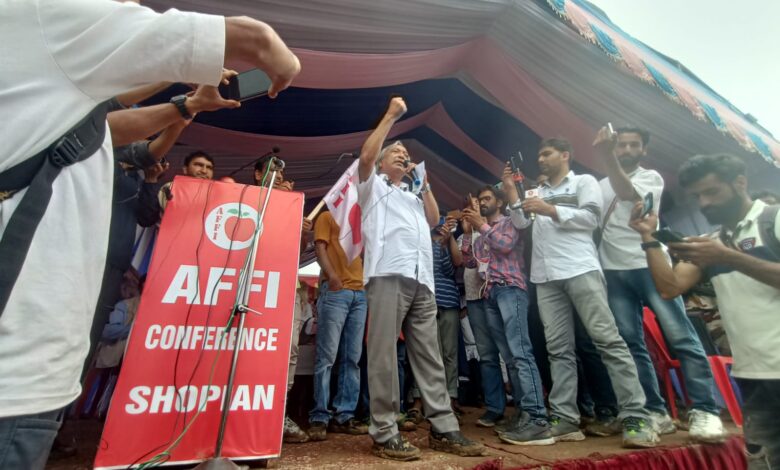 Srinagar, July 16 The First State Conference of the Jammu & Kashmir unit of the Apple Farmers' Federation of India (J&K AFFI) affiliated to All India Kisan Sabha was organised in the apple town of Shopian on July 15 and 16, 2023, with the enthusiastic participation of apple farmers from across the Kashmir valley as well as the Jammu region.
The Conference held special significance in two ways: first, it was the first time that apple growers gathered to form their own collective organisation in the region; and second, the Conference was held in the extremely volatile and sensitive district of Shopian. The Conference marks an importance juncture for the resumption of the democratic process in the district, as well as in all of J&K.
A total of 165 delegates from 10 apple dominated districts of Kashmir, including 4 delegates from Jammu, participated in the proceedings of the Conference on July 15. The Conference was inaugurated by P Krishnaprasad, Finance Secretary of AIKS. Mohd Yusuf Tarigami, ex-MLA and spokesperson of the Gupkar Alliance, greeted the conference.
A report was placed by Zahoor Ahmad Rather, which discussed various issues affecting the apple economy, like dwindling prices, withdrawal of state support in inputs leading to their rising costs, stagnation in productivity, need for adequate and subsidised cold chain infrastructure, and extreme climatic disturbances like hailstorms. The report, which also presented a 14-point charter of demands, was unanimously adopted by the delegates after a rich discussion.
The Conference condoled the deaths due to floods and expressed grave concern, and solidarity with, the people affected by the devastation caused in Himachal Pradesh, Uttarakhand and other states.
The Conference then elected a 11-member state committee. Zahoor Ahmad Rather was elected as President and Abdul Rashid Itoo was elected as Secretary. The delegate session concluded with a rousing speech by AIKS President Dr Ashok Dhawale.
On July 16, an impressive public meeting was held in Shopian to mark the end of the Conference. Despite sudden heavy rains and increased security checks, over one thousand apple farmers from Shopian, Kulgam and other apple growing districts reached the venue. With loud cheers to save the apple economy, the public meeting was inaugurated by Dr Ashok Dhawale. P Krishnaprasad, Zahoor Ahmad Rather, Ghulam Nabi Malik, Mohammad Afzal, Abdul Rashid Pandit and Om Prakash addressed the gathering. The concluding speech was given by Mohammad Yusuf Tarigami.
As per the All India calls, the Conference decided to hold anti-corporate demonstrations in J&K on August 9, and to hold a three day mahapadav at Srinagar from November 26 to 28, on the burning issues of farmers and workers.