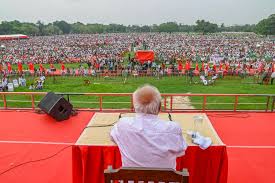 SUCI (C) condemns BJP for engineering Manipur ethnic conflict, Haryana communal riots
Kolkata , Aug 10
Socialist Unity Centre of India (Communist) has condemned the ruling Bharatiya Janata Party (BJP)of engineering ethnic conflict in Manipur and communal riots in Haryana for petty politics gains to reap the electoral harvest in the Lok Sabha elections of 2024.
Comrade Provash Ghosh, General Secretary of SUCI (Communist) in a press statement today said  "It is evidently clear that the BJP engineered the ethnic conflict in Manipur situated in the North eastern region of India. The fire of this conflict has already killed hundreds of people, burnt thousands of houses and property and led to wanton raping of women and created deep rift between the two communities. The same BJP has again instigated communal riots in Haryana situated in the Northern zone of our country, bulldozed the jhopris and dwellings of the minorities. All these have been done by the BJP in order to reap harvest in the next parliamentary election by stimulating and expanding "Hindu Vote Bank", Our apprehension is that this conspiratorial murderous scheme to terrorise the minorities will be applied in more areas and states.
"No words are strong enough to condemn this heinous destructive political game of BJP. We call upon all left, democratic and secular parties, forces and people to unite in order to resist and defeat this horrifying scheme of BJP," he added.