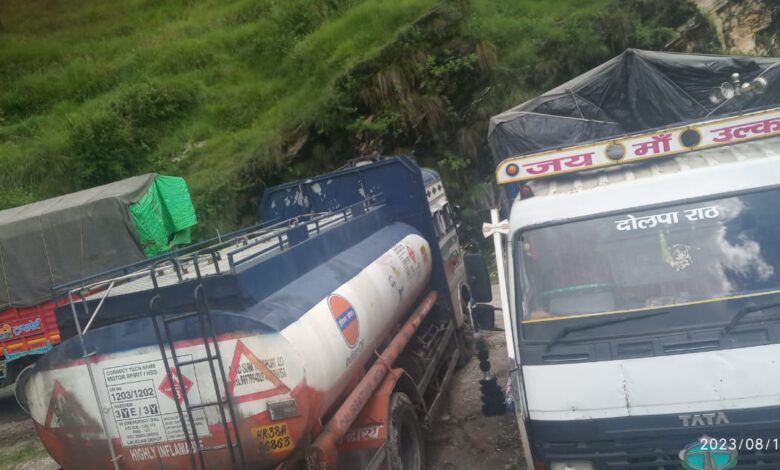 Residents in remote villages suffer due to closure of roads
B.D.Kasniyal
Pithoragarh, Aug 19
The cost of building material, ration, vegetables have gone up and shortage of LPG cylinders is looming large in the border town of Munsiyari in Pithoragarh district as the Thal to Munsiyari motor road, the main supply line to the town is closed from last 7 days.
"We are trying to open the road by today evening. The road is closed due to caving in of over 150 meters of road portion at Banik, some 44 km from Thal town towards Munsiyari," said Yashbir, Sub Divisional Magistrate (SDM) of Munsiyari.
"Besides the building material, ration and other essential goods, the shortage of fuel and LPG is being faced by the residents," said Sri Ram Singh Dharmasaktu, president of Malla Johar Vikas Samiti in Munsiyari.
According to the residents, due to disruption of supply from last 7 days, the costs of essential goods have gone up ."On not getting the road through by today, the situation might become more critical as another road to Munsiyari,  Jauljibi to Munsiyari road is also closed at Kaithi bend," said Puran Pandey, a  resident of Munsiyari town.
According to Pandey though the people are crossing to another side by travelling 100 meters from damaged site and taking transhipment but the trucks loaded with goods have no way to move.
According to District Disaster Management Officer,  Pithoragarh, over  16 village roads including main border road from Dharchula to Tawaghat are closed in the district today."The main border road to last security posts at Indo-China border, Dharchula to Lipulekh, was closed last evening ," said Bhupendra Singh Mahar, DDMO, Pithoragarh."
Munsiyari residents said that there is no relief for the villagers in remote parts of sub division where over 15 Village roads are closed since June this year." Over 30000 population living in interior parts of this border division is facing shortage of essential commodities,  schooling of their children has also been disturbed due to closure of these roads, as no labourers or machines and JCBs have been assigned to open these roads ," said Bhagat Bachmi, resident of Baram town of Munsiyari.