Featured
National
Politics
Uttarakhand
Indresh Maikhuri asks Uttarakhand DGP to act against hate mongers as per SC guidelines in Uttarakhand
Communal elements spreading hate with impunity in Uttarakhand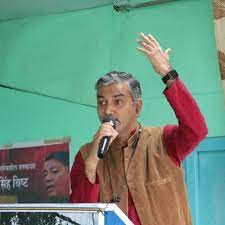 Indresh Maikhuri asks Uttarakhand DGP to act against hate mongers as per SC guidelines in Uttarakhand
Communal elements spreading hate with impunity in Uttarakhand
Dehradun , Aug 17
Indresh Maikhuri, Uttarakhand state secretary of CPI (ML) in a letter written to the State Director General of Police (DGP) Ashok Kumar has expressed deep concern at the inaction of the police and administration in taking any action against people who are continuously trying to spread communal hatred and violence through their utterances and action in the state for the past some time. He charged that since no concrete action has been taken against such elements who feel emboldened. Maikhuri alleged that such elements are spreading hatred from smaller towns to cities in Uttarakhand with impunity.
Indresh Maikhuri in his letter attached two videos of rallies being taken out -one from Bhikyasain, a remote place in Almora district and another from Someshwar, both places in Kumoan region , in which slogans against a particular community are raised amidst cries for violence against them.
The Bhikyasain video shot in the last week of July is of 4 minutes 43 second duration while the Someshwar video  shot in the first week of August is of one minute and 30 second duration.
Indresh Maikhuri reminded the Uttarakhand DGP that Supreme Court of India has clearly instructed the state police forces to take suo motto action and file FIRs against such hates speeches. He further reminded that Uttarakhena DGP in his message himself on August 11,  2023 had reiterated about the Supreme Court guidelines on hate speeches.
The young left party leader urged both the state Governor and DGP to not only take cognizance but concrete action against any big or small attempt to spread hate in an attempt to communally divide the community for ulterior political goals in the state. He urged the authorities to take action on the videos from Bhikyasain and Someshwar of Almora district of Kumoan region as per the Supreme Court directions. A copy of the letter was also sent to the Uttarakhand Governor.
Interestingly, after the spread of communal hatred through campaigns of 'Land Jehad', 'Love Jehad' and 'Mazar Jehad' in Garhwal region of Uttarakhand, the RSS affiliated Hindu right wing organisations have started focusing on Kumoan region which had remained peaceful as compared to Garhwal since the ruling BJP came to power in the state in 2017.