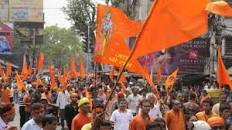 Despite monsoon fury, 'Islamophobic' hate kept simmering in Uttarakhand hills
S.M.A.KAZMI
Dehradun, Aug 30
Despite the havoc played by monsoon rains which has put dampers on normal life in Uttarakhand, the Islamophobic hate is being kept simmering in the state. In Uttarakhand, which has become the latest state after Gujarat to act as a laboratory of 'Hindutva' politics, after the Purola incidents where the minuscule Muslim population was ordered to be evicted on the filmsy charges of 'Love Jehad' in June 2023 has seen regular incidents where the Muslims are being targetted. It was after an international hue and cry and intervention of the High court that peace could return to Purola and other hill towns of Garhwal region where right wing Hindu groups had given an ultimatum to the minority community to leave the area.
Even after Purola incident, there had been several low key incidents where Muslims had been targeted across the state by right wing Hindu organisations. The latest incident is the protest by Bajrang Dal against Muslims for allegedly using a flat allotted to them for prayers in colony developed by Mussoorie _Dehradun Development Authority (MDDA). According to a social media post posted by 'Hinduwatch', Bajrang Dal members are seen raising provocative slogans against Muslims seeking action against prayers in the flat. They charged that two adjoinging flats have been converted into a mosque to pray by Muslims. They said that while the Dehradun District Magistrate Sonika has ordered sealing of the flats ,the MDDA Secretary Mohan singh Barniya has allowed the house owners one week's time to restore the accommodation to its' original form.
The Hindu Jagran Manch and Devbhoomi Raksha Manch burnt the effigies of MDDA Secretary and held a demonstration outside the secretariat on August 26, 2023 raising provocative slogans.
Even National Conference leader and former J&K Chief Minister Omar Abduallah taking cognizance of the incident posted on X," people are not allowed to pray the privacy of their own homes and yet our leaders insist that India is a free of any religious discrimination."
https://twitter.com/HindutvaWatchIn/status/1695659175387218192?t=LIfLWYT85YCBsiCBF-Dd_w&s=08
Razia Baig, a former Chairperson of the Uttarakhand Bar Council lamented that the police and administration acting at the behest of Hindu Bodies have stopped Muslims from praying within four walls of their house. On alleged violation of MDDA rules ,she said that similar violation in the flats like conversion of houses into temples, shops and business establishments are a norm without inviting any punitive action. " Since Muslims are involved, they have been prevented from parying even within four walls," she said.
It has not the isolated incident after Purola incident but part of the hate campaign aided and abetted by the state BJP government and its 'Sangh Parivar' affiliates. Few days ago, Uttarakhand Chief Minister Pushkar Singh Dhami had claimed that thousands of acres of forest land has been freed from illegal encroachments. Probably he was referring to state government campaign against 'Mazar jehad" in which more than 300 mazars throughout the state have been razed to the ground but interestingly many Hindu temples built on forest lands including several revered Hindu shrines in forests are standing still. He further said that as an election promise on which the BJP party got a mandate in last assembly polls, the Uniform Civil Code (UCC) would be implemented in the state this year. There had been a campaign against  Muslims in the name of "Love jehad' and "Land jehad' in the state in the past two years.
In the past three months while, the state faced the fury of nature in the shape of excessive rains, floods and resultant landslides, the campaign against the Muslims had been going unabated. In the past three months there had been many smaller incidents in Western Dehradun town of Vikasnagar where efforts were made to vitiate the communal atmosphere on one pretext or another. A fortnight ago, three Muslim houses were attacked and widow panes of the houses smashed at Vikasnagar. Police cases were lodged.
Even in the hate campaign has spread to the Kumoan region, which had remained relatively untouched by the communal virus. On July 20, Hindu organisation charged a Muslim of allegedly indulging in unnatural sex with a cow at Almora and was sent to jail. There had been processions taken out in Someshwar and Bhikyisain where provocative slogans against Muslim community were raised.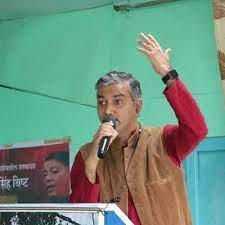 Indresh Maikhuri, Uttarakhand state secretary of CPI (ML) in a letter written to the State Director General of Police (DGP) Ashok Kumar has expressed deep concern at the inaction of the police and administration in taking any action against people who are continuously trying to spread communal hatred and violence through their utterances and action in the state for the past some time. He charged that since no concrete action has been taken against such elements who feel emboldened. Maikhuri alleged that such elements are spreading hatred from smaller towns to cities in Uttarakhand with impunity.
Indresh Maikhuri in his letter attached two videos of rallies being taken out -one from Bhikyasain, a remote place in Almora district and another from Someshwar, both places in Kumoan region , in which slogans against a particular community are raised amidst cries for violence against them.
The Bhikyasain video shot in the last week of July is of 4 minutes 43 second duration while the Someshwar video  shot in the first week of August is of one minute and 30 second duration.
Indresh Maikhuri reminded the Uttarakhand DGP that Supreme Court of India has clearly instructed the state police forces to take suo motto action and file FIRs against such hates speeches. He further reminded that Uttarakhena DGP in his message himself on August 11,  2023 had reiterated about the Supreme Court guidelines on hate speeches.
The young left party leader urged both the state Governor and DGP to not only take cognizance but concrete action against any big or small attempt to spread hate in an attempt to communally divide the community for ulterior political goals in the state. He urged the authorities to take action on the videos from Bhikyasain and Someshwar of Almora district of Kumoan region as per the Supreme Court directions. A copy of the letter was also sent to the Uttarakhand Governor. However, no action has been taken by the police or administration.Interestingly, the main opposition party Congress has maintained a deafening silence on the issue of targeting of Muslims in the state.