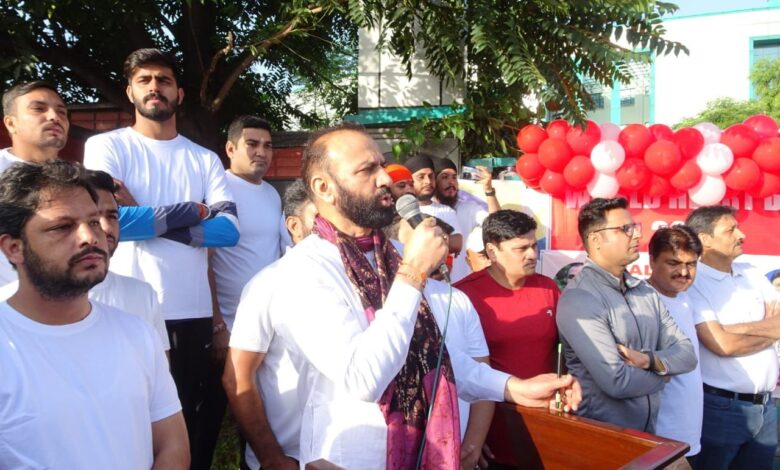 Healthy lifestyles leads to healthier heart: Dr Sushil Sharma
Impressive Walkathon organized to mark World Heart Day in Jammu
Jammu, Oct 1
Giving a loud and clear message to the people to give priority to their health, Dr. Sushil Kumar Sharma, Head of the Department, Department of Cardiology, and Government Medical College Hospital (GMCH) Jammu,On World Heart Day on September 29 said that to keep the body in good health is a duty.
Eminent cardiologist Dr. Sushil Sharma focused on the need for preventive measures like maintaining a healthy lifestyle, dietary preferences, and physical activity to remain healthy.
Addressing the gathering to mark the conclusion of the Walkathon organized by the Department of Cardiology to celebrate World Heart Day, Dr. Sushil Sharma emphasized the fact that since a healthy heart is the gateway to a healthy life, it is important to ensure the health of your heart.
The Department of Cardiology Super Specialty Hospital Jammu under the able and visionary guidance of Dr. Sushil Sharma organized a daylong Walkathon on the occasion of World Heart day with main focus on this year theme "USE HEART, KNOW HEART". It has been the mission of Dr Sushil Sharma  to make the masses aware of the impending cardiovascular pandemic,
The impressive Walkathon started from Bikram Chowk and culminated at Super Speciality Hospital, Jammu with the participation of people from all walks of life. Justice Sanjeev Kumar, Lok Sabha member Jugal Kishore Sharma, Dr Shakti Gupta – Director AIIMS, Dr Narinder Singh ( National Sectary. BJP) ,  Shakti Pathak – DIG ,  Rajeev Panday – DIG NIA, Dr Rajinder Singh ( Former Principal GMCH) , Advocate D S Chauhan  and office bearers of the Jammu Chamber of Commerce and Industries participated in the Walkathon. BSF Jawans along with  students of Jammu Sanskriti School, Wazir Janki Nath Memorial, Lawrence Public School, and Maha Saraswati Shishu Vidya Mandir Public School and people from all walk of Life  also participated in the Walkathon.
"With the growing number of heart patients worldwide, it has become a cause of concern of late. As per reports, millions of people die of heart disease every year, which is an alarming scenario", Dr. Sushil informed and added that World Heart Day is celebrated every year on September 29 to create awareness against heart diseases and to prevent heart diseases by giving it a tough fight.
He, however, revealed that nothing is more powerful than human resolve which can be ascertained from the Jammuites pledge to participate in the walkathon as well as by the huge response received with participation from all sections of society.
" The aim of organizing this Walkathon is to address the ever-rising trend of Cardio-Vascular Diseases (CVDs) which take the lives of 20.5 million people every year, 31% of all global deaths. Triggering these diseases – which manifest primarily as heart attacks and strokes are tobacco use, unhealthy diet, physical inactivity, and the harmful use of alcohol", Dr Sushil said.
While lauding the initiatives of Dr. Sushil Sharma to make people aware, Justice Sanjeev Kumar said that nothing is more powerful than human resolve to prevent any disease. He lavished all praise on eminent cardiologist Dr. Sushil for his efforts to involve the masses in the awareness campaign. Lok Sabha member Jugal Kishore Sharma, in his address, said that today's impressive Walkathon is an indication that Dr. Sushil Sharma's initiatives are yielding encouraging results. He pointed out that Jammuites have reasserted their resolve by participating in today's Walkathon with an overwhelming response from every section of the society. At the outset Dr Mohan Lal, Dr Gurjit Singh , Dr Arvind Kohli and Dr Nasir Ali Choudhary informed the participants on how to stay healthy and how to prevent any complications in patients who already have cardiovascular disease. Dr Nitin Sharma conducted proceedings of the function and introduced the guests .
Carrying placards spreading the messages on the WHD, Students from different schools were the attraction of the walkathon. The walkathon concluded with the release of the Red heart shaped Balloons bearing message like Beat CVD, Quit smoking, healthy diet, Control Diabetes,  Maintain adequate blood Pressure , Cholesterol level and De stress .
Other speakers appreciated the efforts of Dr. Sushil Kumar Sharma to create awareness among people against heart disease. They made special mention of the free medical camps organized by Dr. Sushil Sharma and his team every week in different parts of J&K  to provide the best possible health facilities to the people at their doorsteps.