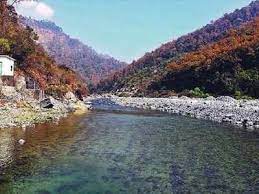 After a long wait of 48 years, Jamrani project gets financial approval of central govt.
B.D.Kasniyal
Pithoragarh, Oct 26
It has been a welcome news for the people of Kumoan terai region that the Union Government has included, the much delayed Jamrani multipurpose hydro-electric project of Haldwani in to a central government project and sanctioned a sum of Rs 1730.20 crore for the construction of 90 percent of the project. "The remaining amount will be borne by the Uttarakhand  government,"  said Prashant Vishnoi, General Manager of the Project Implementation Unit (PIU) of Jamrani project.
"It has been a wait of 48 years and hope that after take over by the central government, the project will be completed ,"said Navin Verma, a resident of Haldwani and a member of Jamrani Sangharsh Samiti, that was active in the region from the year 1991.
According to Verma, when the project was first sanctioned in 1976, the work of construction of feeder canals was started but after some times the work stopped due to some political tangle between two senior leaders of the Kumaon region."As this project is lifeline of Haldwani and Bhabar region, the people are satisfied with the development," said Verma.
The union cabinet, chaired by Prime Minister Narendra Modi on October 25, decided to include Jamrani project into a central government project under 'Pradhan Mantri Krishi Sichai Yojana' and sanctioned a sum of Rs  1730.20 crore for its first phase construction.
After construction, the project will not only solve drinking water problem of growing Haldwani city and its satellite towns but also provide irrigation water for over 57000 hectare of land in Nainital, US Nagar districts of Uttarakhand and Rampur and Bareilly districts of Uttar Pradesh.
According to union government press communiqué , the project will complete in 2028, at a total expenditure of Rs 2584.10 crore and after the completion,  it will also generate 63 million unit of electricity. The project will be constructed on river Gola, 10 km upstream from Kathgodam near Jamrani village .
"It could be possible only after I raised  questions on this project after becoming MP from Nainital, and followed it up will Union Finance Minister Nirmala Sitaraman and Union Water Resources Minister Gajendra Singh Shekhawat, the advisory committee of water resource development and Ganga preservation department of Government of India, recommended the amount for the project in the year  February 2019,that was approved by government of India, yesterday," said Union Minister of State for Defence and Tourism and  Nainital MP Ajay Tamta .
The demand to construct Jamrani Dam started coming up from the year 1968, after recommendations of several experts committees. The Union government approved it in the year 1975 but despite its approval, the people had to wait 48 years to get it started after financial sanction, we hope the project will complete in next five years," said Navin Verma.