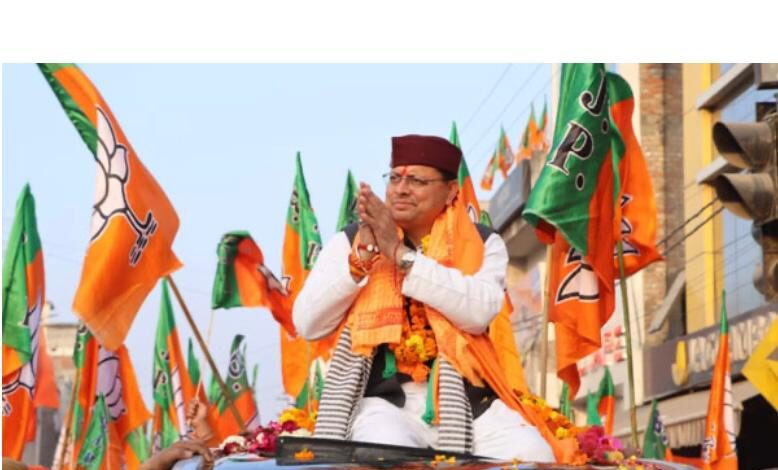 A day after 'Chintan Shivir' to rejuvenate the party, Congress receive worst electoral drubbing by Uttarakhand CM Dhami
S.M.A.KAZMI
Dehradun , June 3
A day after opposition Congress held a two day long "Chintan Baithak" to devise plans and strategies to take on ruling Bhartiya Janata Party (BJP), Uttarakhand Chief Minister Pushkar Singh Dhami gave a crushing defeat to Congress by winning the Champawat bypoll by a margin of over 55,025 votes. He polled 58258 votes while Congress candidate Nirmala gehtori could manage only 3233 votes. She lost her deposit alongwith other candidates in the fray.
It was a record breaking win for Chief Minister Pushkar Singh Dhami, who needed to win the bypoll to enter the state legislature within six months of taking reins of the state. Dhami has taken over as Chief Minister in March this year following landslide BJP victory in the state assembly elections held in February 2022. Interesingly while, the ruling BJP won 47 seats out of total 70 assembly seats in the assembly polls, Pushkar singh dhami who led the party, himself lost election from his home segment of Khatima in Kumoan region . However, the BJP leadership decided to make him Chief minister again.  Kailash Gehtori,  who had won the Champawat assembly seat vacated his seat to pave the way for Dhami to enter the state assembly.
The BJP party has put in lot of efforts in the bypoll with central as well as state leaders pitching in to campaign for the Chief Minister. Uttar Pradesh Chief Minister Yogi Adityanath campaigned and held a massive road show.
On the other hand, Congress which is making tall claims of taking on ruling BJP after the Udaipur 'Chaintan Shivir' of senior party leaders , could not even put up a decent fight. The victory of Chief Minister Pushkar Dhami was a foregone conclusion but meek surrender of opposition Congress was an indication of the decay in the party.
The writing was on the wall since the announcement of bypoll as the strongest party contender , who fought state assembly elections from Champawat, namely Himesh Kharkwal refused to contest. The party then persuaded Nirmala Gehtori, an old time party leader to contest against the Chief Minister. The Congress party campaign was a lack lustre affair with party candidate charging that she was left to fend for herself. Although, senior state party leaders including former Chief Minister Harish Rawat, state party chief Karan Mahra and other campaigned for her but it was just symbolic.