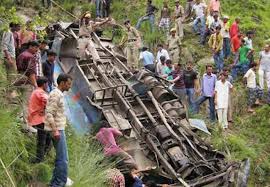 Hundreds perish in road accidents every year in Uttarakhand as road safety norms are flouted with impunity
S.M.A.KAZMI
Dehradun, June 9
A pilgrimage to "Char Dhams', according to Hindu belief ensures 'Moksha' for the pilgrims as did 'Pandavas'. However, the roads to the famous 'Char Dhams', the four Hindu revered pilgrim places of Badrinath, Kedarnath, Gangotri and Yamunotri situated in Garhwal Himalayas are still dangerous and are called 'killer roads' despite the ongoing ambitious "Char Dham" road project due to increasingly number of road accidents taking the toll of hundreds of pilgrims every year.
Three days ago, a bus carrying pilgrims from Madhya Pradesh to Yamunotri shrine fell in a deep gorge at damta in Uttarkashi district killing 23 passengers, again highlighted the danger of driving on the serpentine roads of the state.
Regrettably, since the new state came into being on november9, 2000, on an average more than five hundred pilgrims have lost their lives as their vehicles rolled down the steep slopes into the fast flowing rivers in the valleys. Thousands have been injured.
On an average, one person gets killed in the hill state every eight hours. More than 5000 persons have lost their lives in road accidents in the past five years and much more injured. According to World Health Organisation (WHO), five lakh road accidents are reported every year in India resulting into 1.5 lakh deaths and injuries to much more.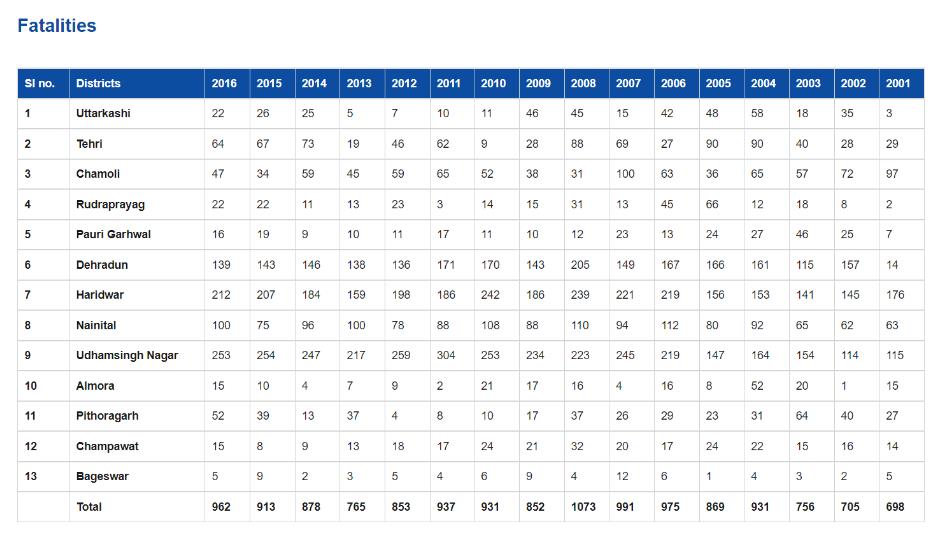 The ratio of fatality in Uttarakhand as compared with the national fatality ratio is just the double. While the fatality ratio is 30 percent at the All India level, it is 71 per cent in Uttarakhand. This could be attributed to several factors including the tough geographical terrain. According to  police report of 2018, 1468 road accidents occurred in Uttarakhand in that resulting into the deaths of 1047 persons.
Safety records of Uttarakhand buses had remained dismal as  particularly during 'Char Dham yatra' season, which coincides with monsoon season..
Drunken driving, over crowding in the buses and other four wheelers particularly by the pilgrims to 'Char Dham' yatra  and Hemkund Sahib in Garhwal, rash driving and lack of repairs of the old state transport buses are some of the major reasons for the reoccurrence of  such frequent road accidents.  A tendency amongst the transporters to make maximum money by making maximum number of trips to 'Char Dhams' has also led to frequent accidents. Magisterial inquiries are announced but the fate of such initiatives had remained unknown.
As per official records, a total of 869 per sons lost their lives in road accidents in 2005 while 1842 got injured. Next year the number of dead increased to 975 while the number of injured were 1910. In 2007, a total of 991 persons lost their lives with the number of injured soaring to 1988.
This time, Nitin Gadkari, Union Surface Transport Minister has sent a team of experts from Save Life Foundation to suggest measures to reduce the fatal road accidents in the state. Despite, such reports and suggestions, the entire administrative machinery of Uttarakhand had remained callous in meeting this challenge. There is a rat race amongst the transporters ferrying more and more pilgrims during the "Char Dham Yatra" season to make money. The record shows that most of the larger luxury buses coming from outside the state are not built for narrow hill roads and majority of those driving these buses have no experience of hill driving. Most of the drivers driving during Yatra Season are tired and fatigued. A study has shown that 40 per cent of the road accidents are caused by fatigued drivers.
Moreover, drunken driving in the hills is another reason of fatal road accidents. Scientific studies have shown that even a small of alcohol could impairs driver's reaction time and judgement particularly on hill roads where a split second error could be fatal. It has been found that a driver with alcohol consumption is twice likely to meet with an accident than a sober driver.
There has not been any checking or restriction for drivers plying on Char Dham Yatra routes or other hill roads. The police, transport officials are hand in glove with transporters. Moreover, the state governments are also turning a blind eye to the safety norms for the fear of being labelled as putting impediments in the religious 'Yatra'.
It was in the year 2008 that then Chief Minister Maj.Gen. B.C. Khanduri (retd) took t as a challenge to streamline the transport system by ensuring greater security and safety for the pilgrims. He directed all the district authorities as well as the transport officials to be accountable for any accident occurring on the roads.
He has also asked the police and transport officials to ensure that pilgrim and tourist vehicles coming from all over the country do not over speed.  A number of other steps have also been taken to ensure that only those drivers with hill driving licenses drive buses on the hill roads besides being strict about their working hours, rest and training.
International Road Federation (IRF), Geneva based global body working for better and safer roads world wide has expressed deep concern at major bus accident on Yamunotri highway near Damta in Uttarakhand with high death toll and has stressed on the need of installation of crash barriers, separate tough driving license for hill drivers and stricter fitness and overloading norms for vehicles.