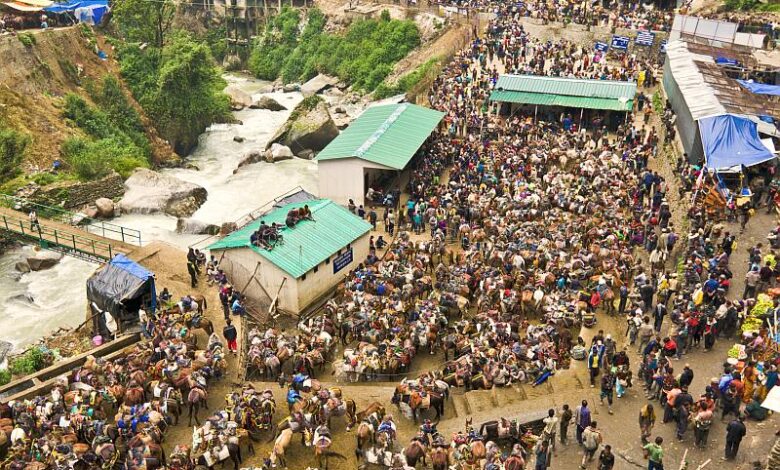 HC notice on 140 dead mules and horses enroute 'Char Dham yatra' route makes Uttarakhand awake
S.M.A.KAZMI
Dehradun , June 10
A hue and cry raised by animal activists and strong notice by the Uttarakhand High Court on the death of mules and horses on "Char Dham Yatra" route due to being overburdened and alleged ill treatment by owners and callous negligence by officials, on a Public Interest Litigation (PIL) has forced the Uttarakhand government to come up with certain steps to safeguard these animals.
Dr. V.V.R.C. Purshottam, Secretary, Animal Husbandry department in Uttarakhand government announced that a total of 140 mules and horses died on Kedarnath route since the start of the "Char Dham yatra" in Garhwal Himalayas on May 5. Most of the animal deaths are reported from Kedarnath route where the pilgrims have to climb trek 19 km stretch from Gaurikund to the Kedarnath temple. Most of the old, infirm, women and children hire mules and horses to ferry them to the revered shrine located in Rudraprayag district of Garhwal. He said that 6880 animals have been screened and 1804 animals provided medical help. He further claimed that cases under Cruelty to Animal Act have been registered against 9 mules and horses owners and 91 of them have been challaned.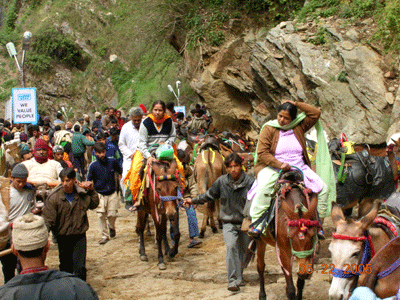 Interestingly, since the start of Char dham yatra this year, there has been unprecedented rush of pilgrims to these four most revered Hindu temples of Kedarnath, Badrinath, Gangotri and Yamunotri. As yatra was curtailed in the past two years due to pandemic scare, this year a total of 18 lakh pilgrims had visited these shrine in the first month which is a record. The exertion, cold weather, high altitude has also proven fatal for old pilgrims suffering from heart ailments as 142 of pilgrims died undertaking pilgrimage to these temples in the past month.
However, it was the death of mules and horses ferrying pilgrims particularly on kedarnath route which attracted the attention of animal lovers. It was on May 28 that animal activist pointed towards the ill treatment of mules and horses enroute Char Dham yatra route resulting in the deaths of the animals. It was charged that mule and horse owners in a bid to earn quick money are making two or three trips from Gaurikund to Kedarnath in a day exposing the animal to exertion, cold weather, lack of proper drinking water and adequate food.
It was alleged that dead animals are thrown in Mandakini river and the norms of burying the dead animals were being flouted. Uttarakhand Animal Husbandry Minister Saurab Bahuguna visited the Kedarnath area to take stock of the situation and announced several corrective steps.
It was a PIL filed by animal activist Gauri Maulekhi that a division bench of the Nainital High court comprising Acting Chief justice Sanjay Kumar Mishra and Justice R.C.Kulbe issued notices to the state government, animal husbandry department, district magistrates of Uttarkashi, Chamoli, Rudraprayag and other districts on the Char Dham yatra route to reply within two weeks.
The court also directed for constitution of a committee for the safe conduct of the yatra. The petitioner had prayed that there are 20,000 mules and horses being used by pilgrims and most of them are sick and overburdened. She alleged that the dead animals are thrown into the Mandakini river contaminating the water source.The next date of hearing in the case is June 22.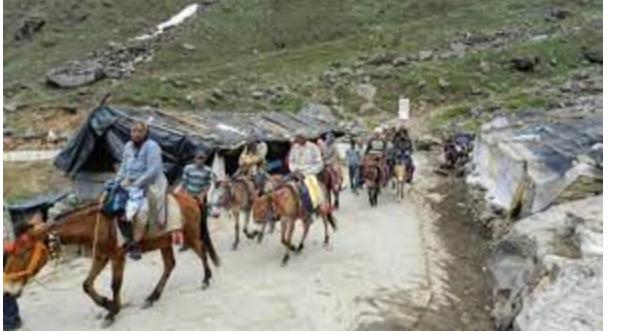 Earlier, former union minister and animal activist Maneka Gandhi also raised the issue with Uttarakhand Tourism Minister Satpal Maharaj and requested him to ban the use of mules and horses in the yatra. More than 8500 mules and horses are deployed brought from Uttarakhand, Himachal Pradesh and Uttar Pradesh to ferry pilgrims.
Raghunath Singh Negi, Chairman of Jan Sangharash Morcha and a former Vice-Chairman of Garhwal Mandal Vikas Nigam (GMVN) has taken the state BJP government to task on the issue of death of these animals on Char Dham yatra route. He said that the state government has completely failed in organising an orderly yatra where animals as well as pilgrims are dying every day.