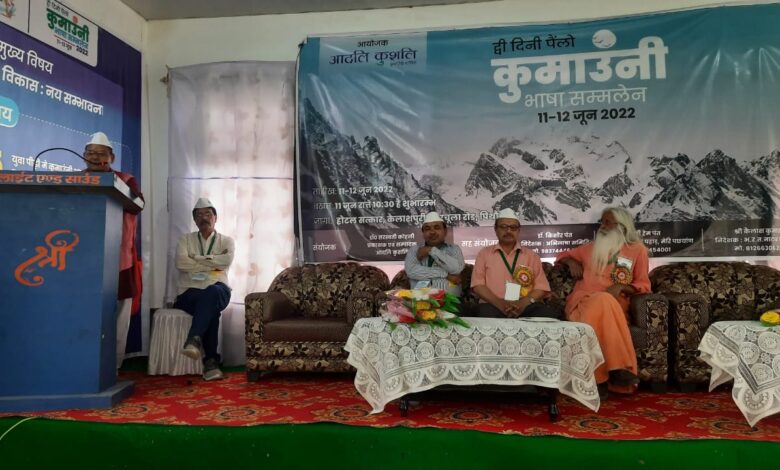 Demand to include Kumaoni language in 8th Schedule of the Constitution
B.D.Kasniyal / Prem Upadhaya
Pithoragarh/ Bageshwar, June 12
A two day- long conference on Kumaoni language which concluded in Pithoragarh, today called for its' inclusion of the eight schedule of the Constitution of India and more research in the entire Kumoan region for finding a standardised format of the language. The conference called upon the lovers of Kumoani language to do not only research but also to hold meetings and conferences to make the people aware towards these goals.
"To reach at a common vocabulary out of 13 different  forms of expressing Kumaoni words in the whole region, the language  lovers will have to begin a series of research on a standardised form of language," said Dr Dev Singh Pokharia, former HOD of language department at Almora campus of Kumaon university.(now S.S.Jeena Almora University).
This first ever such conference was organised by Dr Saraswati Kohli, publisher of "Aadali Kushali", a Kumaoni language monthly magazine devoted to promotion of  the language.
"With this conference, we have started taking the adoption of Kumaoni language, too seriously to make it into the 8th schedule of the Constitution," said Dr Saraswati Kohli, organiser of the conference.
The technical sessions that were organized following the inaugural session, were devoted to study and analysing of Kumaoni language in the context of changing  social and cultural values.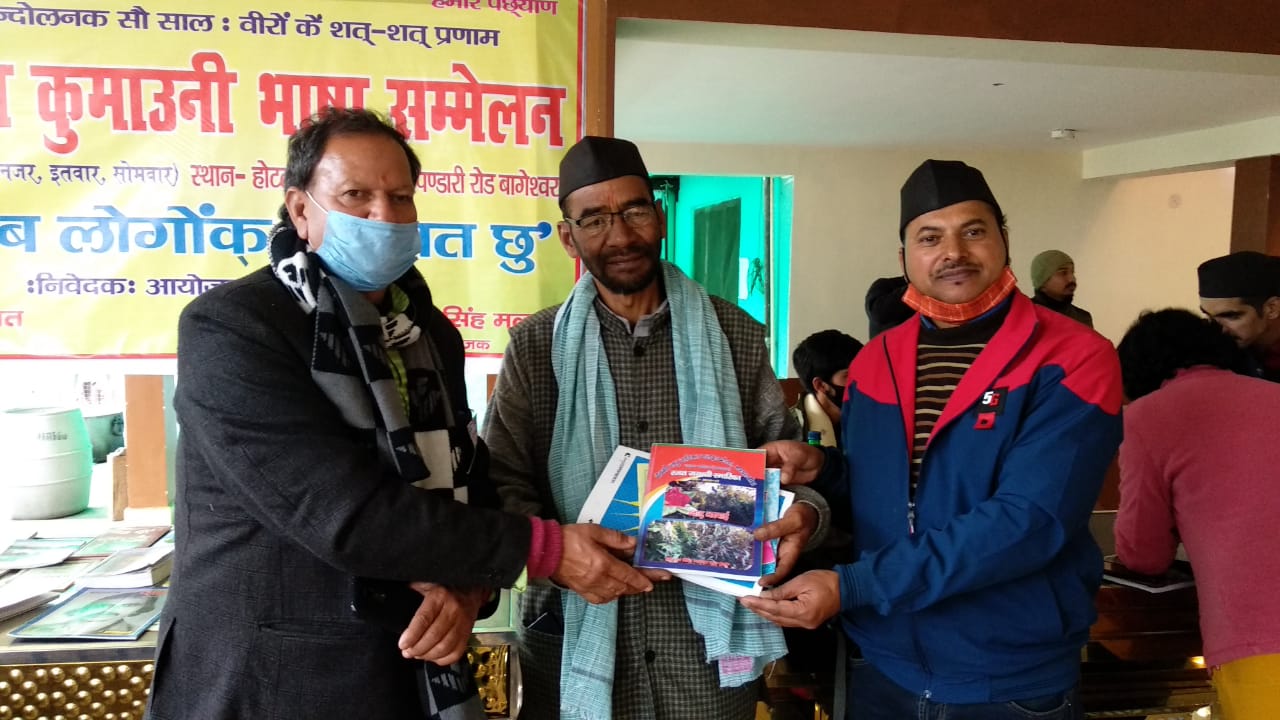 "We will have to study tendency of changing Kumaoni society towards adoption of Kumaoni language words into their daily lives and to find out if that version is not changing the basic nature of the dialect," said Hayat Singh Rawat, a Kumaon language lover and editor of  "Paharu", a Kumaoni language periodical published from Almora.
According to Rawat, though the Kumaoni language is an Indo- Aryan language but there are number of linguistics peculiarities in this language at all level, that do not conform to the linguistic tendencies attested in mainstream Aryan languages like, Hindi or its dialects. "The basic words of Kumoani language are driven from ancient Khas , Astro- Asiatic, Tibeto-Burman  and Dravidian words and phonetics, makes the Kumaoni language makes it different of those of mainstream Aryan languages, " said Rawat.
The speakers on second day of the conference, today emphasised on  challenges of standardisation of  the language by finding out common words for common use in all 13 sub sections of the language." We will have to find a pattern of phonetic changes in uses of basic Kumaoni language words in  different regions of Kumaon due to difference in  particular cultural traditions historically." said Tribhuwan Giri, a  Kumaoni language writer from Almora.
The two day conference concluded with a proposal that more and more high quality literary works be  written in Kumaoni language to make it able to get more respect and acceptance from  other language speakers of the country and world." The literatures who attended the conference were of the opinion that only good literature written in a particular language makes it widely acceptable to other language groups," said Dr Saraswati Kohli, organizer of the conference.
According to rough estimates, Kumaoni is spoken and understood by  more than four million people. It is worth mentioning that many famous litterateurs are doing Kumaoni linguistic translation even of texts like Vedas. Mohan Joshi, a senior litterateur of Garuda, has done translations of 'Ramcharitmanas' and 'Rigveda' in Kumaoni language, and he has also written many books in it. Professor Dev Singh Pokhriyal,  other linguistic scholars have completed Kumaoni vocabulary, dictionary, grammar, history of language and its scientific authenticity. Even in formal education, Kumaoni dialect has been successful in making a place somewhere in the level from school to university. In Kumaon University, studies are also conducted at the postgraduate level.
'Pahru' Kumaoni monthly magazine published by Kumaoni language literature and culture promotion committee Kasardevi Almora has been working in this direction for decades. The editor of the magazine, Dr. Hayat Singh Rawat, organizes events every year in different places of Kumaon to create awareness among the people.