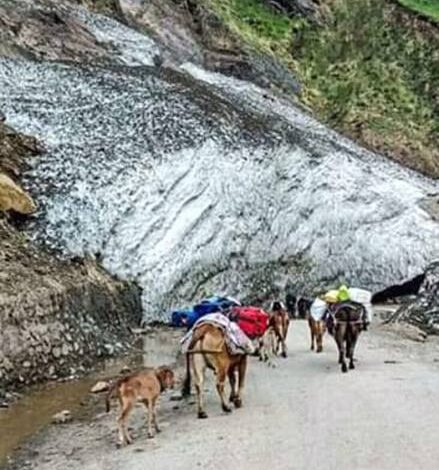 Summer migration affected due to freak winter weather in Higher Himalayan region
B.D.Kasniyal
Pithoragarh, April 3
Villagers of more than over 36 villages of high Himalayan region, who were supposed  to leave for their original homes after winter migration are unable to do so due to unseasonal rain and heavy snowfall in the Higher Himalayan region from past week. Most of the trek routes to these villages which are open by mid April paving the way for summer migration are claosed due to accumulation of heavy snow.
"As the summer migration days of April 15 has come close, heavy snowfall in high Himalayan region these days has led to closure of these routes," said Kishan Singh Datal, a villager from Dantu village of Darma valley preparing for summer migration.
According to the villagers, the temperature in Darma valley villages is at minus 2 degree Celsius during day time while it drops to minus 6 degree Celsius during night."On April 1, the snowfall was at one foot deep in the village and over two foot in high peaks of Panchachuli range of mountains ,"said Guddu Datal, an entrepreneur, running home stay service in Dantu village.
CPWD,the agency which keeps roads in high valley villages open , has started preparation to maintain the roads by removing deposited  snow on the route to high himalayan villages.
" We have inspected the road up to village Baling, and made efforts to open it as snow deposits are heavy beyond that village. We will try to remove the snow in the coming days," said Anil Bangyal, an engineer with the CPWD.
The 21 villages of Darma and Vyans valleys and  13 villages of Johar valley migrate twice a year during summer and winters. While they climb down from higher Himalayan villages to lower valleys ,they again go up during summer months to till their lands and look after their homes.
Keeping the untimely snowfall in higher valleys in mind, Dharchula SDM, Divesh Sashni has called a meeting of officials and public representatives on April 6. " We have called officials of over 20 government departments, and public representatives like Block Pramukhs, Gram pradhans, BDC members and Zila panchayat members of both valleys of Darma and Vyans to discuss the problem of snow deposits on migration routes and how to provide essential services to villagers for next 6 months when the villagers will remain in their high Himalayan villages," said Divesh Sashni SDM, Dharchula.