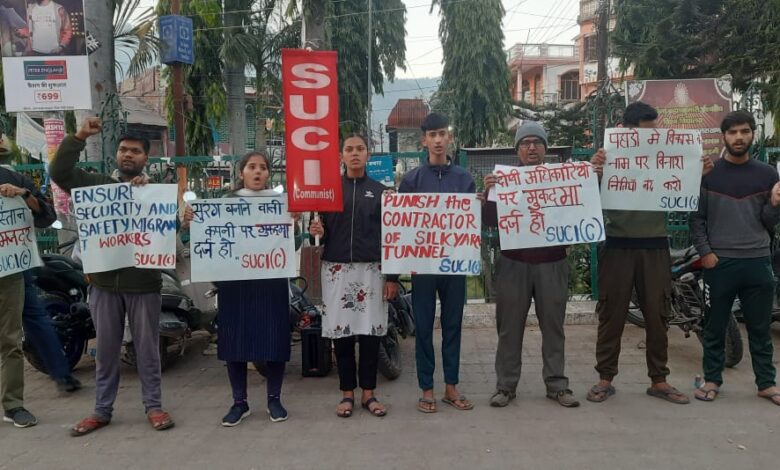 SUCI(Communist) hold protest, seek early rescue of Silkyara trapped workers
Dehradun , Nov 20
The Socialist Communist Centre of India (Communist), a left party held a meeting at Gola Park, Srinagar Garhwal seeking early rescue of 41 workers trapped in a collapsed tunnel at Silkyara in Uttarakashi district on Monday.
Dr. Mukesh Semwal, State Cordinator, Uttarakhand, SUCI (communist) said that the meeting demanded that the concerned officials and construction company involved in this accident should be booked and exemplary punishment should be given for alleged  gross negligence which trapped poor workers in such life and death  situation. He said that it was due to criminal negligence of the private construction company that the life of 41 workers hangs in balance in the mishap.
The SUCI (communist) said that time and again concerned citizens, environmentalists, pro-people organisations had been warning governments both the state government and the central government against pursuing anti- people, anti- Himalayas policy been implemented blatantly despite people's opposition to such mindless development strategies.
Dr. Mukesh Semwal said that In this recent Uttarkashi case also, the tunnel project, was also opposed by local villages by giving representation to NGT, SDM and others way back in 2019 but sadly no action was taken which resulted in the painful tragedy for poor workers in such projects.
"The culprits of Himalayas are those faulty planners, bureaucrats and political forces who are wasting such hard earned money of tax payers on such projects by not only ignoring the scientific and environmental opinion but making fun of them," said Dr. Mukesh Semwal.
"The agencies and contractors involved in building such illogical projects are flouting every workers; rules guaranteed by Indian constitution while  the corrupt enforcement officers usually overlooked the cases of gross exploiting of workers, mainly migrants from across the country, who are  prone to work in most dangerous workplaces," he added.
He further said that in this recent case, the contractors were unable to give exact list of workers trapped inside the tunnel. The list of workers was released after 12 hours and  suddenly authorities declared that trapped workers were 41 and not 40 as declared earlier. "Does human life matters for such profit hungry companies," he asked.
The SUCI (communist) demanded the safety of all workers involved in such dangerous work across Uttarakhand. It was also demanded that the state government should constitute a committee comprising environmentalist, concerned citizens and local people for review of construction work especially tunnel based  Rishikesh-Karnaprayag rail projects (which has 105 kms of tunnel out of total 126 kms rail line in fragile Himalayan terrain).