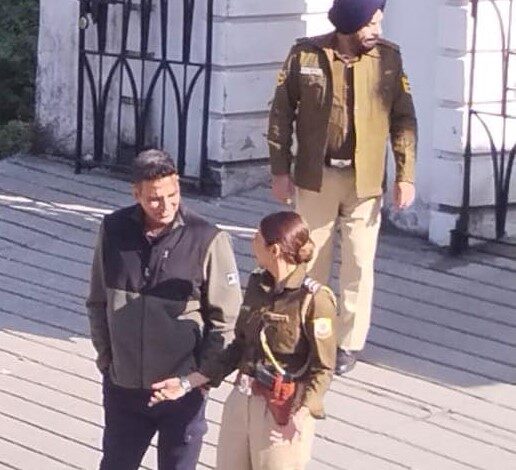 Bollywood star Akshay Kumar shoots for his upcoming venture at Historic Oak Grove School in Mussoorie
Ajay Ramola
Mussoorie, Feb 2
Bollywood actor Akshay Kumar who is in Mussoorie for the past three days shot several scenes for his upcoming film, a remake of the south Indian film 'Ratnasasan' which was also remade in Telugu at the historic Oak Grove School in Jharipani, Mussoorie on Wednesday.  He along with Rakulpreet, the female lead in the film shot several scenes In Junior School lawns, the front pitch and the school's hospital, said Atul Saxena, a teacher from the school.
Oak Grove school founded in 1888 is run by the Railway board of the country.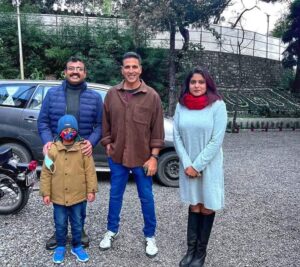 The presence of Akshay Kumar and other casts of the film generated a lot of enthusiasm among the local population who rushed to catch the glimpse of the actors but were denied entry to the shooting spot for security reasons.
Earlier, on Tuesday, several scenes of Akshay Kumar and Rakulpreet were shot at the gates of another prestigious school St Georges College.
Many local artists including children have also been given an opportunity to play minor roles in the film. The film, which is being made under the banner of Impression Group and is produced by Mayank Tiwari and is being produced by Vashu Bhagnani and Ranjit Tiwari.
Akshay Kumar is playing the role of a police officer and the film is said to be a suspense thriller. Several scenes will be shot in the pristine locales of Dhanolti and Dehradun in the coming days.
The original south Indian film 'Ratsasan' released in 2018 was directed by Ram Kumar. The film is based on basic on two real personalities. The film featured Vishnu Vishal, Amala Paul, and Saravanan. The film is about an aspiring film director who becomes a police officer after his father's death and tries to track down a serial killer. The film was released on 5 October 2018, to critical acclaim from the audience, and became a commercial success.
The presence of the Bollywood stars raised the excitement level of the tourist town of Mussoorie, but some fans were disappointed and not being able to meet the stars and pose with them.
KS Chauhan, Deputy Director of information from the state government said that the unit has taken permission for around 18 days and will shoot in several locales in and around Dehradun and Mussoorie. He also said that several small budget feature films and Web Series are lined up in the month of February in the state which is good for the tourism-dependent state as it will provide much-needed publicity and generate revenue for the locals.
However, some citizens of the town were worried about the garbage they will leave back after the shooting and urge the crew to work towards reducing their carbon footprint while in Mussoorie and Dehradun.