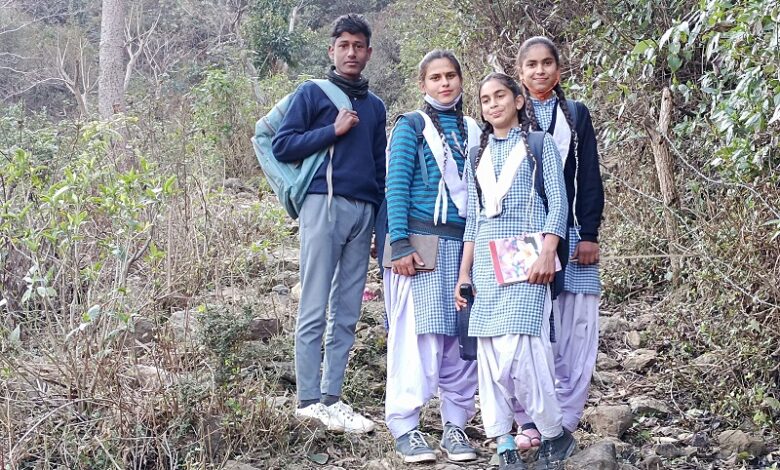 A walk to school in the hills as part of " We are Ashamed" campaign
S.M.A.KAZMI
Dehradun, Feb 21
As part of the "We are Ashamed" campaign, a few young social activists walked with school going students who had to traverse long distances to reach their schools in the hills  due to lack of infrastructure facilities including roads and schools, not far from the capital Dehradun.
It was on February 19 that Mohit Uniyal Sharma, a young social and political activist, Gajendra Ramola, founder of 'Neovision', Deepak Juyal, an IT professional and Rajesh Pandey, a senior journalist who has been working for children through his children centric web portal 'Dugdugi' started off early in the morning to reach Kandoli village under Doiwala assembly segment to be with three young school going sisters of the village.
Reaching the village after facing terrain difficulties before 7.45 am, these activists joined Soni, (12th class), Sapna (ninth class) and Diksha ( seventh class) who were ready to proceed to their school from their village Kandoli to Government Inter College, Ithrana which is at a distance of six kilometres. The girls had  biscuits and tea as breakfast before rushing off to their school which involved treacherous stretch of three kilometres of uphill walk amidst dense forest infested with wild animals.
Explaining about "We are Ashamed" campaign, Mohit Uniyal Sharma said that this campaign is a resolve to show solidarity with the young school going children from the hills who are facing immense difficulties in pursuing their education unlike children in urban areas. " We are ashamed that  despite more than two decades of formation of separate state of Uttarakhand, the situation of the schools and overall educational standards have deteriorated and we are unable to do anything about it. Through " We are Ashamed" campaign we are trying to personally know about the hardships and difficulties faced by the poor young school going students and their families in the hills and mountains," Mohit Uniyal Sharma said.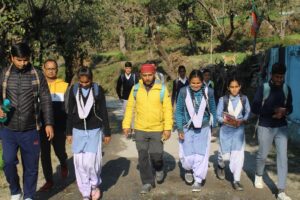 While walking towards their schools, the three young sisters talk about their daily chorus of travelling through tough terrain facing vagaries of weather and returning home at around 5 pm. The sisters said that they have tend to their fields and bring fodder for their domestic animals also leaving them with little time to concentrate on their studies.
After travelling one kilometre, the entourage reaches Kharak village where there are three houses and Mohan, a class tenth student joins them for school. A surprised Mohan with strange companions, said that he has to tend to his goats after return from school. Soni is worried about her younger siblings. " I am completing 12th class this year and would be going to college elsewhere but my two young sisters have to again travel on these treacherous paths which I did for seven years," she said. There is complete wilderness on the school path with no houses or a village. Their father is a cook at a construction company.
Soni recalled her encounter with two leopards while on her way to school, a fortnight ago. " I was dumbstruck with fear as both were fighting. I could not even shout but started throwing stones at them to shoo them away. I was alone going to school that day," she said.
On reaching the school, the teachers are pleasantly surprised to find visitors.  Satyendra Negi, physics teacher said that except for students from village Ithrana most of the students had to traverse long distances up to ten kilometers to reach the school.
Rajesh Pandey held a story telling session with the school students and encouraged them to continue their studies despite odds.
Mohit Uniyal Sharma, who has been involved in a number of social initiatives was the one who was given a Congress party ticket from Doiwala assembly segment but was replaced with another candidate after two days. But he has taken the betrayal by his party in his stride. " I am basically a social worker who wants to bring change in the lives of the poor and the deprived. I am not hankering after any office," he said.
He said that lack of infrastructure particularly roads, schools and hospitals has led to migration from the hills. " Not only in remote mountainous region but even 20 kms from capital Dehradun people have left their villages and migrated to cities and urban areas," he added.
Earlier as part of the "We are Ashamed campaign", these social activists had walked eight kilomteres with the school going children of Haldwari to their school min Dharkot village in Doiwala assembly segment last month.
" The state government has to take a serious note of the ground realities and come up with innovative solutions to lessen the burden of these students. One solution could be to run residential schools for cluster of villages," said Gajendra Ramola, who has been teaching poor and deprived students in Dehradun.