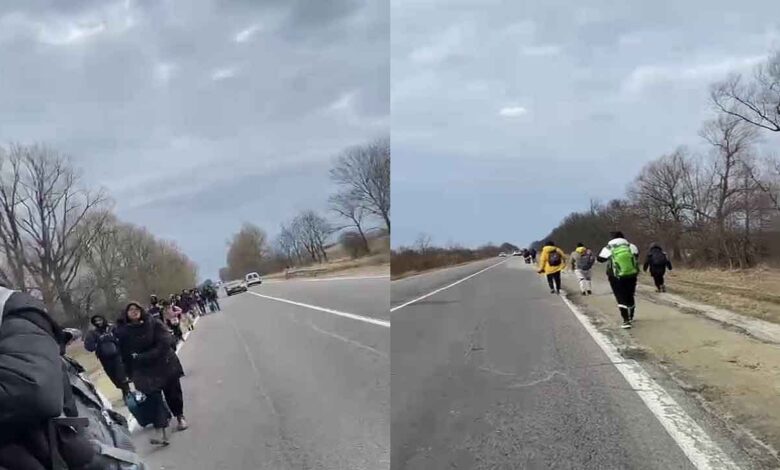 Poland sets up eight reception points on Ukraine border to look after fleeing students, refugees
Neena Sharma
Warsaw, Feb 26
A desire to acquire quality but cheap education attracted thousands of students from India to Ukraine, but the events of February 24, has turned their lives topsy turvy. The Russian invasion of Ukraine has left them hankering for home and safety.
The Polish government has set up eight reception points at its' border with Ukraine to look after refugees particularly students fleeing Ukraine after the start of hostilities.
The events in Ukraine after the invasion by Russia has stunned the students, who are now looking to exit the country safely. While some have managed to reach the neighbouring countries of Romania, Hungary and Poland, for further evacuation, many continue to spend their time hiding in bunkers or praying for relief.
India has begun the process of evacuation of its stranded nationals with the help of it's embassies at Hungary, Romania and Poland. More than 40 students studying medicine stranded in Ukraine, who were dropped by their college bus at the Poland border a day ago, are still waiting for the flights to take them home. According to reports, the group from Danylo Halystskt Medical University in Lviv were dropped around 8 km from the border point by a college bus. Their college in Lviv, Ukraine is approximately 80 kms from the Poland border. Most of the fighting is happening in eastern Ukraine.
The Indian embassy officials in Poland  have made arrangements for them at a local housing complex. For now, all the arrangements are being looked after by the Indian embassy.
Further, the Indian embassy in Warsaw has advised Indian nationals arriving at the Poland- Ukraine in cars or taxis to reach the Krakowiec crossing, while the rest have been advised to arrive at the Shehyni-Medyka  crossing, which is a village in south eastern Poland and is 13 km east of Przemysl, county. According to the Indian embassy in Poland, a camp office of the Embassy of India is functioning in Krakowiec on the Polish- Ukraine border. This  office will facilitate transit via Poland back to India of Indian nationals stranded In Ukraine  An email cons.warsaw@mea.gov.inhas been set up to facilitate students desirous to transit through Poland back to India.
According to Indian government data, there are approximately 18,000  Indian students studying in Ukraine from North Indian states of Haryana, Punjab, Rajasthan, Bihar and New Delhi. A large number of Indian students are concentrated in the cities of Kyiv, Kharkiv and Odessa, where military action is underway.
In India four-year private medical education could cost upto 10- 15 lakh per year but in Ukraine and Belarus it is around 5lakh per annum, above all the standard of education is top-class as most of the medical universities are also highly rated in Europe. With degree from Ukraine, the Indian students can hope to get jobs in European countries like Poland and neighbouring countries, which are reeling under shortage of medical staff. Beside the financial aspect, the students also have to battle severe winter conditions all year round.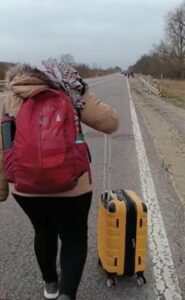 Rajat Goel, a postgraduate student at a local university in Warsaw has been following the events in Ukraine keenly, "I am worried for my friends, several of them are studying in Minsk and Kyiv. They are in medical colleges and hail from Haryana. I am in touch with them in case they want to come through Poland, I will see, how I could I be of any assistance to them," he said.
The war brings with itself, its own set of uncertainties and likely so with the students, who had crossed several hurdles to acquire an education that would hopefully seal their future. But all that has now become uncertain. "I do not know, when the studies will resume at my university, If at all they would in the near future, but for now everything is bleak for me," said Ayush, a student from Danylo Halytsky University In Lviv.
Meanwhile faced with a massive influx of fleeing refugees from Ukraine, the Polish government has prepared eight reception points along its border Ukraine which will provide food, medical aid and information to those displaced following Russia's invasion. The Polish city of Krakow has announced that it can provide housing for up to 17,000 refugees, if the need arises.
Deputy interior minister of Poland,  Pawel Szefernaker has   said the centres are also being set up at Lubelskie and Podkarpackie provinces  that border Ukraine.
Earlier this month Lublin, Poland's largest city near the Ukraine border announced that it would be able to take several thousand refugees.
"We are thinking about using hostels and holiday homes, and indoor performance spaces," said a Polish official
A number of aid organisations, including the Polish Red cross PRC and the Polish Centre for International Aid PCMP have launched fund raising campaigns to help Ukraine.
(Neena Sharma is a senior journalist currently based in Poland)