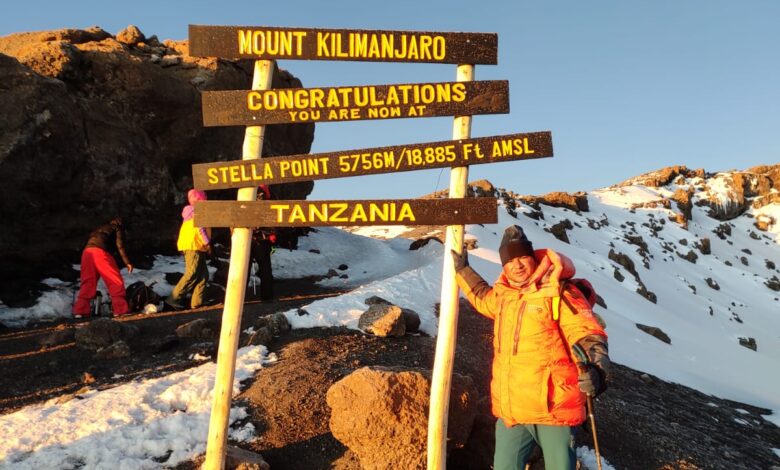 Uttarakhand policeman scales the highest peak in Tanzania Kilimanjaro peak twice in a span of three days
Ajay Ramola
Mussoorie, Feb 28
It was a day of reckoning for Rajendra Nath, a police personnel working in the State Disaster Response Force (SDRF) in Uttarakhand when he scaled Mt Kilimanjaro the highest peak in Tanzania on Saturday.
The DGP Uttarakhand Ashok Kumar commended the efforts of Rajendra Nath, a police man who is currently serving in the State Disaster Response Force (SDRF). Doiwala, Dehradun.
Rajendra Nath along with other members of his team reached Kilimanjaro International Airport in Tanzanian country on 21st February. He started his trek on foot from Moshi to Mount Kilimanjaro National Park Gate.  On 22 February after walking around 8 km he reached Mandara Hut and the next day after trekking 13 km he reached Horombo Hut. After a day's rest, the team elder egged him on to trek to Kibo hut the base camp to Kilimanjaro summit. The weather conditions were not good as the temperature reached minus 10 degree celsius and the cold wind blowing at a speed of about 70-90 km/h along with a spell of snow, but it did not deter the spirit of Rajendra Nath and after walking 16 kilometres for 9 hours continuously and crossing all the obstacles, he finally reached the highest peak on the continent of Africa and hoisted the Tricolor and the state flag at 5:20 p.m. (African Time and 7:50 minutes IST).
Rajendra Nath speaking about his second climb in the span of three days said, "I went back to the summit at 12:15 a.m. on the morning of 26th February with other members of my team and at 5:45 a.m. (African Time/8:15 p.m. IST) and hoisted the Tricolour along with the SDRF flag again at the summit",
This is for the first time any Police personnel from India has recorded a successful ascent of Mount Kilimanjaro twice in the span of 3 days, added Rajendra Nath.