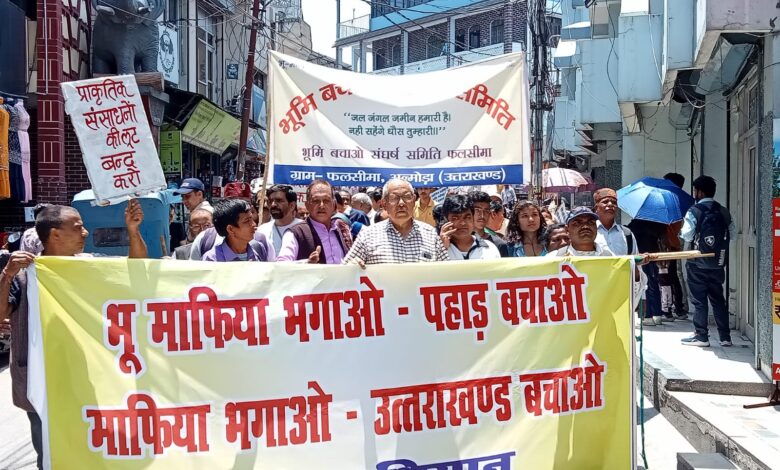 Need for strict land laws to save precious hill agriculture in Uttarakhand
B.D.Kasniyal
Pithoragarh, May 22
A day long rally at Almora  held last week to demand implementation of strict land laws in the state to save the hill farmers from turning landless, has been widely welcomed by all sections of the society in the hill state.
"In all Himalayan states, Uttarakhand is only state that has never cared for its next generations by the way of protecting it's agricultural land, while all other Himalayan states have much earlier framed laws to save their rural cultivable land," said P.C. Tiwari, president of Uttarakhand Parivartan Party, that staged the rally in Almora to sought cancellation of  land laws of the state do away with  the ceiling of 12 acres on purchase of agricultural land for industrial purposes in rural areas of the state.
According to Tiwari, while the agricultural land in all North eastern states  is protected under provisions of Article 371 of Indian Constitution, the neighbouring state of Himachal Pradesh has protected it's agricultural land in rural areas by enacting section 118 of Himachal Pradesh Tenancy and Land Reforms Act 1972."Even in Sikkim, the agricultural land cannot be sold to outsiders for other than agricultural purposes," said Tiwari.
"A state government RTI, query had revealed that out of a total 56.72 lakh hectares of land in Uttarakhand at the time of formation of the state, only 7.4 lakh hectares of land in under cultivation, out of that 1.2 lakh hectares have gone out of cultivation in last 2 decades of statehood," said Tiwari.
Due to state's policies to promote non-agricultural uses of hill land, the share of agriculture, horticulture, fisheries and forestry in state's GDP has reduced to 8.6 percent in 2018, from 12.3 percent in the year 2012.
Yashpal Arya, leader of opposition in state assembly has appealed to the government to implement the strict land laws in the state by applying the suggestions of the committeeinstituted for the purpose."The state of Uttarakhand was formed to save 'Jal, Jungle and Jamin '  of the state for local people, despite that the rich people from outside are purchasing  big chunks of land in the state due to which the small farmers of the state are speedily becoming landless in their traditional villages," said Arya.
According to the leader of opposition the state assembly, due to exploitation of farmers by middlemen and land mafias, the traditional rights of local people are gradually decreasing." Due to less land remain for bee keeping, horticulture and floricultural purposes in the state, the self employment avenues are also shrinking due to which the youths are leaving the state even for odd jobs to sustain their families, " claimed Arya.
Experts of agricultural and Horticultural in Uttarakhand have said that the villages in Uttarakhand could be made self sufficient by the way of applying advanced agricultural and Horticulture methods in rural areas.
" If the marketing of agricultural and Horticultural produces by rural farmers is taken up by state government in its hands, the rural areas can get self sufficiency by taking agricultural and Horticultural practices there," said Dr I.A. Khan, former director of Horticultural department in Uttarakhand.
According to Dr Khan, due to non application of modern technologies and methodology besides marketing of produce by farmers in rural areas of the state, over 1800 villages of the state have reportedly have completed been without habitation." If rural land is given for industrial purposes, the self-sufficiency in food would be finished in coming days, " said Dr Khan.